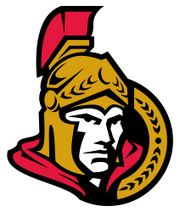 City
Ottawa
League
CWHL
Founded
1998 (1998)
Home arena
Bell Sensplex
Colours
red, black and white
General manager
Lyne Landry
Head coach
Brad Marsh

---

Franchise history
1998-1999
National Capital Raiders
1999-2007
Ottawa Raiders
2007-2008
Ottawa Capital Canucks
2008-2010
Ottawa Senators
The Ottawa Senators are a women's ice hockey organization, based in Ottawa, Ontario, Canada. The organization organizes teams in several age divisions, including Intermediate in the Provincial Women's Hockey League (PWHL). The women's senior-level ice hockey team formerly played in the Canadian Women's Hockey League (CWHL), until 2010. The senior team was formerly known as the 'Ottawa Capital Canucks' and the 'Ottawa Raiders'.
History
[
]

The club began as the National Capital Raiders in 1998, becoming the Ottawa Raiders in 1999. The club played in the National Women's Hockey League (NWHL) from 1999 until 2007, when the league folded. In 2007-08, the club re-organized as the Ottawa Capital Canucks, playing in the CWHL. For the 2007–08 season, the team played at the Sandy Hill Arena in central Ottawa.
In 2008, the Canucks team merged its operations with the Kanata Girls Hockey Association. The new organization is named the Ottawa Senators Women's Hockey Club, is partly sponsored by the Ottawa Senators NHL club and operates three teams. The Senior AAA plays in the CWHL, the Intermediate plays in the Provincial Women's Hockey League and there is a Midget AA team which plays in tournaments. The new organization is based out of the Bell Sensplex in the Kanata suburb of Ottawa.[1]
In 2010, it was announced that the CWHL would reduce the number of its teams to five. The Ottawa Senators senior team will no longer be playing in the CWHL, while the intermediates and other level programs will continue