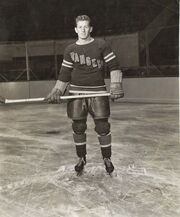 Ehrhardt Henry "Ott" Heller (June 2, 1910 in Kitchener, Ontario, Canada – June 15, 1980) was a Canadian defenceman.
He played junior hockey in his hometown with the Kitchener Greenshirts and then turned pro with the Springfield Indians in 1929.
Heller then started his National Hockey League career with the New York Rangers in 1931. He would play 15 seasons with the Rangers and retire from the NHL after the 1946 season. In 1941, he was a member of the NHL All-Star Team. He won 2 Stanley Cups in 1933 and 1940. He served as Captain of the Rangers from 1942 to 1945.
After leaving the Rangers, Heller played in the minor pros and senior level for another 11 seasons, sometimes as a playing-coach.
Gallery
[
]
Video
[
]
Action from Game 4 of the Rangers-Canadiens Semi-final series on March 27, 1932 featuring the game's only goal by Ott Heller.
External Links
[
]