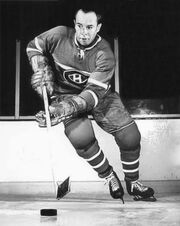 Orval Ray Tessier (Born - June 30, 1933 in Cornwall, Ontario) is a retired Canadian professional centre and coach who played three seasons in the National Hockey League for the Montreal Canadiens and Boston Bruins. Tessier played only 59 regular season games in the NHL.
Tessier played junior hockey in the Ontario Hockey Association with the Kitchener Greenshirts and the Barrie Flyers. He helped the latter team win the Memorial Cup in 1953
His NHL rights belonged to the Montreal Canadiens but they were far too deep at centre for Tessier to have much of a chance to make it with the big team. He was playing for the Montreal Royals of the Quebec Hockey League when the Boston Bruins claimed him in he inter-league draft.
He had only limited success with the Bruins but did win the Quebec Hockey League scoring title in 1956-57 with the Quebec Aces. That team also won the Edinburgh Cup that year.
He went on to win two scoring titles with the Eastern Professional Hockey League's Kingston Frontenacs, voted the league's most valuable player and most sportsmanlike player in the 1961–62 season.
After playing, Tessier had a successful coaching career. Tessier coached the Cornwall Royals to Memorial Cup victory in 1972 and coached the 1981 Memorial Cup finalists, the Kitchener Rangers. The next season, Tessier was hired to coach the New Brunswick Hawks in the American Hockey League. He led the Hawks to a Calder Cup victory in 1982. Tessier was promoted, and named head coach of the Chicago Black Hawks, which lasted for three seasons.
Tessier may be best remembered for a quote during the 1983 Campbell Conference finals. After the Black Hawks gave up 14 goals in falling behind 2–0 to the Edmonton Oilers, Tessier fumed that Chicago players needed "heart transplants". The quip failed to inspire the Hawks, who dropped the final two games of the series at Chicago Stadium, marking the second consecutive year Chicago lost in the Campbell Conference final.
He went back to coaching the Cornwall Royals.
Tessier finally won a Stanley Cup in 2001 with the Colorado Avalanche while serving as a scout for the team.
Awards & Achievements
External links