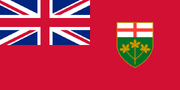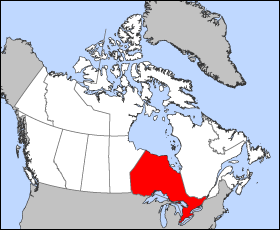 Ontario is a province located in the east-central part of Canada. Ontario is the largest province in the country by population and second largest, after Quebec, (Nunavut and the Northwest Territories are larger but are not provinces) in total area. Ontario is bordered by the provinces of Manitoba to the west, Quebec to the east, and the American states of Michigan, New York, and Minnesota.
Notable players
Edit
Some notable players from Ontario include
Major Professional Hockey
Edit
This league was formed in 1909 with the Ottawa Senators as an original team. They lasted until the league itself folded in 1917.
Also in 1909 were three other Ontario teams - Cobalt, Haileybury, and the Renfrew Creamery Kings. Cobalt and Haileybury folded after one season, but the Creamery Kings lasted one more year.
There was no Toronto team until 1912, mainly because of the lack of a suitable arena. In 1912-13 there were two Toronto teams - Toronto Blueshirts and Toronto Tecumsehs. The Blueshirts lasted until the league collapsed in 1917. The Tecumsehs were replaced by the Toronto Ontarios in 1913-14, the Toronto Shamrocks from 1914 to 1916, and the Toronto 228th Battalion in 1916-17.
The Toronto Arenas were an original member of the league in 1917. They were only a temporary franchise and folded at the end of the NHL's second season. They were replaced by the Toronto St. Pats in 1919. This team was renamed as the Toronto Maple Leafs in the 1926-27 season.
The Ottawa Senators were also an original member of the NHL and lasted until 1934, when they were moved to become the St. Louis Eagles.
The Hamilton Tigers were moved from the Quebec Bulldogs in 1920. The team lasted until 1925 when a player strike doomed the team. They were moved to New York City to become the New York Americans.
A new Ottawa Senators franchise started in 1992.
The Ottawa Nationals were one of the original teams in 1972-73. They moved the next season to become the Toronto Toros who lasted as such until 1976. They then moved to become the Birmingham Bulls.
The Ottawa Civics lasted for a short time in the 1975-76 season before folding. They had been the Denver Spurs.
CMA = Census Metropolitan Area
| CMA | 2006 | 2001 |
| --- | --- | --- |
| Toronto | 5,113,149 | 4,682,897 |
| Ottawa | 1,130,761 | 1,067,800 |
| Hamilton | 692,911 | 662,401 |
| London | 457,720 | 435,600 |
| Kitchener | 451,235 | 414,284 |
| St. Catharines | 390,317 | 377,009 |
| Oshawa | 330,594 | 296,298 |
| Windsor | 323,342 | 307,877 |
| Barrie | 177,061 | 148,480 |
| Sudbury | 158,258 | 155,601 |
| Kingston | 152,358 | 146,838 |