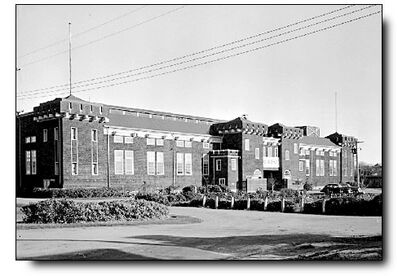 The Wilows Arena was an indoor arena located in Victoria, British Columbia.  The building was originally opened as the Horse Show Pavilion on the Willows Fairground.  The arena was converted to an arena in 1941.  This was the first arena in Victoria since the Patrick Arena burned down on November 11, 1929.  The facility became home to the Victoria Bapcos of the Pacific Coast Amateur Hockey League for the 1941-42 season. 
Later that season, an Island League was formed for military members who were stationed on the island.  The 1942-43 season would see the Victoria Army which included (Chuck Rayner and Bernie Strongman) team based out of the arena make it all the way to the 1942-43 Allan Cup Final where they lost to the  Ottawa Commandos who were loaded with NHL players who were in the Canadian Military due to the war.
Many of the members of these teams would be shipped overseas prior to the next season and the league folded.  With the decrease in hockey use the area became the new home to the Victoria Figure Skating Club which had originated in the Patrick Arena and were without permanent home until 1943.
Unfortunately, the arena met the same fate as the Patrick Arena and burned to the ground in April of 1944. The fire also destroyed the Sports Centre which was located next door.
Having lost two arenas to fire in such a short time along with the desire for a memorial to those that lost their lives in World War II lead to the construction of the Victoria Memorial Arena which opened in 1948.
http://www.webturf.com/oakbay/history/encyclopedia/w/memorabilia/willows_arena/willows_arena.shtml
Community content is available under
CC-BY-SA
unless otherwise noted.