This article is about the current Odessa Jackalopes of the NAHL. For the original  WPHL/CHL franchise of same name, see: Odessa Jackalopes (1997–2011).
The Odessa Jackalopes are a Junior A ice hockey team playing in the North American Hockey League (NAHL). The team is based in Odessa, Texas and plays their home games at Ector County Coliseum.
History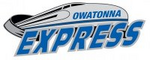 The frachise played as the Owatonna Express based in Owatonna, Minnesota playing homegames at the Four Seasons Centre.[1] The Express played in the Central Division for three season from 2008-2011 until the team was sold to the Odessa Jackalopes in 2011.[2]
A previous minor professional hockey franchise known as the Odessa Jackalopes played in the Central Hockey League from 1997-2011.[3]
Season-by-season records
Season
GP
W
L
OL
SL
Pts
GF
GA
PIM
Finish
Playoffs
Owatonna Express
2008–09
58
29
24
5
-
63
214
189
812
3rd of 5, Central
Lost in 2nd Round
2009–10
58
32
22
4
-
68
188
190
843
2nd of 5, Central
Lost in 1st Round
2010–11
58
32
19
7
-
71
175
179
985
3rd of 6, Central
Lost Div. Semifinals
Odessa Jackalopes
2011–12
60
27
28
5
-
59
153
176
1,036
4th of 7, South
Lost Div. Semifinals
2012–13
60
6
51
3
-
15
121
309
1315
6th of 6, South
Did not qualify
2013–14
60
15
40
5
-
35
123
217
1149
7th of 7, South
Did not qualify
2014–15
60
15
38
7
-
37
172
261
1492
8th of 8, South
Did not qualify
2015–16
60
27
29
4
-
58
185
218
1315
4th of 6, South
Lost Div. Semifinals
2016–17
60
26
25
4
3
61
183
200
1683
5th of 7, South
Did not qualify
2017-18
60
33
22
3
2
71
192
163
1211
3rd of 6, South
Lost Div. Semifinals
2018-19
60
21
35
2
2
46
165
222
-
6th of 6, South
Did not qualify
2019-20
50
9
39
1
1
20
73
203
-
7th of 7, South
playoffs cancelled
2020-21
56
12
36
4
4
32
117
190
1021
6th of 6, South
Did not qualify
Playoffs
First Round – Owatonna Express defeated North Iowa Outlaws, 3-games-to-1
Second Round – Bismarck Bobcats defeated Owatonna Express, 3-games-to-2
First Round – Alexandria Blizzard defeated Owatonna Express, 3-games-to-1
Division Semifinals – Coulee Region Chill defeated Owatonna Express, 3-games-to-1
Division Semifinals – Amarillo Bulls defeated Odessa Jackalopes, 3-games-to-1
Division Semifinals – Wichita Falls Wildcats defeated Odessa Jackalopes, 3-games-to-0
Division Semifinals – Shreveport Mudbugs defeated Odessa Jackalopes, 3-games-to-0
Did not qualify
Playoffs cancelled due to COVID-19 pandemic
Did not qualify
References
External links