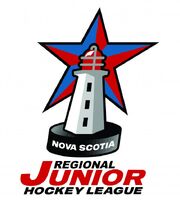 The Nova Scotia Regional Junior Hockey League formerly the Nova Scotia Junior C Hockey League is a Junior "C" ice hockey league in Nova Scotia, Canada, sanctioned by Hockey Canada. The winner of the playoffs competes in the Maritime-Hockey North Junior C Championships. The league was founded for the 2004-2005 season as an evolution of the West Nova Junior C League
The Chester Clippers relocated Bedford for the 2013-14 season but the team was unable to work out a lease and subsequently relocated to North Sydney and they folded before training camps began.
The league lost two longtime members for the 2015-16 season. The Barrington Ice Dogs announced they were taking a leave of absence from the league. This caused the Clare Lions to also take a leave of absence due to the closest team being over 2 hours away. The Lions have stated they are intending to return to the league for 2016-17 but the loss of its nearby rival would not make playing practical for the 2015-16 season. The league also added two teams based out of the Halifax Regional Municipality for the season, the Bedford Wolverines and the Metro Jaguars.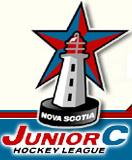 The league added another team in the HRM for the 2016-17 season with the addition of the Eastern Shore Thunder who will play out of the Eastern Shore Recreation Centre.  The Amherst Colts were replaced by the Cumberland-Colchester Colts who will be based out of the Colchester Legion Stadium.
It was announced March 11, 2017 that the East Hants Jr. C Penguins would be joining the league for the 2017-18 season.
For 2018-19 the league added the Sack Vegas Knights, the Metro Jaguars return to the league, and the Avon River Rats are renamed the Windsor Royals
The league is listing a team called the Chester Castaways as a member for the 2019-20 season
The Teams
Edit
Defunct Teams
Edit
Champions
Edit
West Nova Junior Hockey League Champions (2000-2004)
2019 Spryfield Attack
2018 Spryfield Attack
2017 Metro Jaguars
2016 Spryfield Attack
2015 Truro Rhinos
2014 Spryfield Silver and Black Attack
2013 Chester Clippers
2012 Chester Clippers
2011 Eastern Shore Jr. Mariners
2010 Eastern Shore Jr. Mariners
2009 Barrington Ice Dogs
2008 Harbour Crunch
2007 New Waterford Jets
2006 Barrington Ice Dogs
2005 Barrington Ice Dogs
2004 Barrington Ice Dogs
2003 Chebucto Canadians
2002 Yarmouth Raiders
2001 Barrington Ice Dogs
2000 Thorburn Mohawks
External links
Edit
|}
Community content is available under
CC-BY-SA
unless otherwise noted.