Norway is an European country, bordered by Finland, Sweden and Russia. There is a little over 4.6 million people living in Norway, which capital is Oslo.
Organisation
Hockey is popular in Norway, although not as much as it can be in the neighbouring countries. It's top league is the GET-Ligaen.
History of hockey in Norway
International
On the international level, the Norwegian National Team as of recent years managed to secure regularly its spot among the Elite division in World Championships.
Norway

Info

Rinks

Players

Referees

155


Population

4,896,400

Indoor

37

Total

6,385

Male

--

Capital

Oslo

Outdoor

3

Male

1,993

Female

--

IIHF Since

January 20 1935

Junior

3,934

Female

458
The Norwegian men's national ice hockey team (or Team Norway) is the national ice hockey team from Norway that participates at the IIHF World Championships for both men and women. The teams are governed by the Norwegian Ice Hockey Federation. The men's team is coached by Mr. Roy Johansen and the women's team is coached by former men's national team and San Jose Sharks head coach Mr. George Kingston.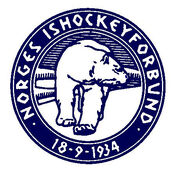 Norway has competed nine times in the Olympics: the country's best performance was seen in Sapporo Olympics in 1972, where the team finished 8th.
The first ice hockey games in Norway were played in the northern part of the country in the late 1920's. The first hockey clubs were established in 1932, and the first national championship was competed for in 1934-35. Norwegian Ice Hockey Association was founded in 1934 and a year later, the country joined the International Ice Hockey Federation.
Some great Norwegian players
National Teams
Leagues
Norwegian 2.Division

Norwegian 3.Division

Norwegian 4.Division
Women's
Women's Norwegian Elite League

Women's Norwegian 1st League
See Also