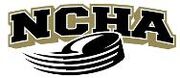 The Northern Collegiate Hockey Association, or NCHA, is a league in NCAA Men's Division III and Women's Division III.
Origins of Conference
The men's conference was formed in 1980 out of the remnants of the International Collegiate Hockey Association when Bemidji State Beavers and Wiscosin-Superior Yellowjackets of the ICHA would join with the Mankato State Mavericks, St. Cloud State Huskies, Wisconsin-Eau Clair Blugolds, and Wisconsin River Falls Falcons.
Men's Membership
| | | |
| --- | --- | --- |
| Team | Location | Arena |
| Adrian Bulldogs | Adrian, Michigan | Arrington Ice Arena |
| Aurora Spartans | Aurora, Illinois | Fox Valley Ice Arena |
| Concordia Falcons | Mequon, Wisconsin | Ozaukee Ice Center |
| Finlandia Lions | Hancock, Michigan | Houghton County Arena |
| Lake Forest Foresters | Lake Forest, Illinois | Alumni Memorial Fieldhouse |
| Lawrence Vikings | Appleton, Wisconsin | Appleton Arena |
| Marian Sabres | Fond du Lac, Wisconsin | Blue Line Ice Center |
| Milwaukee School of Engineering Raiders | Milwaukee, Wisconsin | Kern Center |
| St. Norbert Green Knights | De Pere, Wisconsin | Cornerstone Community Center |
| St. Scholastica Saints | Duluth, Minnesota | MARS Lakeview Arena |
| Trine Thunder | Angola, Indiana | Thunder Ice Arena |
Former Members
Women's Membership
Former Members
The Marian Sabres new women's team joined the NCHA for the 2009-10 season. The Adrian Bulldogs women's team, previously independent, joined the same season. Marian's and Adrian's men's teams played in the MCHA with Concordia and Finlandia.
The St. Norbert Green Knights and St. Scholastica Saints started up new women's teams that joined the NCHA for the 2010-2011 season.
The Aurora Spartans joined the men's conference in 2015 after playing as a Division III Independent for the 2014-15 season and as a club level ACHA program in 2012-13 and 2013-14.
On June 14, 2016; the conference announced that they were adding the women's programs for the Aurora Spartans and Northland Lumberjills to match the men's programs and that Trine University would be added to the conference in men's and women's ice hockey when they begin Division III play.  All four teams will join conference play for the 2017-18 season.
On April 5, 2018 Northland College announced that the Northland Lumberjacks and the Northland Lumberjills would be leaving the confernce after the 2018-19 season to join the Wisconsin Intercollegiate Athletic Conference for the 2019-20 season.[2]
Merger with MCHA
The Lake Forest Foresters men's team left the NCHA for the MCHA after the 2008-09 season and returned when the two conferences merged for the 2013-14 season. The merger was started when the Wisconsin Intercollegiate Athletic Conference announced they were going start a men's ice hockey conference beginning with the 2013-14 season, with it's five members that sponsored the sport, all of which played in the NCHA this left the conference with only two remaining members. The Midwest Collegiate Hockey Association at this point had 8 members (5 of which already had women's teams in the NCHA and the other 3 did not have women's programs).
Tie-Break Procedure
If two or more teams are tied in points at the end of the regular season, ties shall be broken as follows:
1 - Head-to-Head competition
2 - Goal differential in games played between the tied teams only
3 - Goal differential in all NCHA games
Men's Conference Seasons
Women's Conference Seasons
Women's Conference Timeline
References