North Middlesex Stars

Provincial Junior Hockey League
City
Parkhill, Ontario
Founded
1992
Division
Yeck
Franchise history
1992-1993: Parkhill Stars
1993-Pres: North Middlesex Stars
Head Coach
Matt Melo
General Manager
Todd Garner
Arena

North Middlesex & District Arena

Team Colors
Red, White, and Black
League Champions
2009
OHA Cups
2009
The North Middlesex Stars are a Canadian Junior ice hockey team based in Parkhill, Ontario, Canada. They play in the Provincial Junior Hockey League of the Ontario Hockey Association.
History
The team was founded in 1992 as the Parkhill Stars. After only one season, the team name was changed to the North Middlesex Stars.
The early years were rough on the North Middlesex Stars. In the team's first thirteen seasons, only 2 years did they have winning records.
In the summer of 2005, the team was on the verge of implosion. The community came together and saved the team. [1] Since the crisis, the Stars have found new life. In the 2005-06 season, they celebrated their third ever winning record. In the summer of 2006, the OHA Junior Development League dissolved and was replaced by the Southern Ontario Junior Hockey League. Since the formation of the SOJHL, the Stars have been a standout team. In 2006-07, they finished 3rd overall with 30 victories. In 2007-08, they finished 4th overall with 27 victories.
In 2008-09, the Stars celebrated their fourth consecutive winning season with 25 victories and a 4th place finish in the regular season. They then went on to win the OHA Cup.
Season-by-Season Standings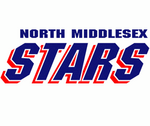 Season
GP
W
L
T
OL
GF
GA
P
Results
1992-93
39
8
30
0
1
135
273
17
18th OHAJDL
1993-94
40
7
31
2
-
136
232
16
16th OHAJDL
1994-95
38
10
24
1
3
132
205
24
16th OHAJDL
1995-96
37
14
14
4
5
152
159
37
10th OHAJDL
1996-97
38
18
17
1
2
167
167
39
11th OHAJDL
1997-98
40
7
31
1
1
123
222
16
18th OHAJDL
1998-99
40
11
24
2
3
116
162
27
17th OHAJDL
1999-00
39
8
29
1
1
106
189
18
17th OHAJDL
2000-01
40
12
22
4
2
--
--
28
14th OHAJDL
2001-02
40
14
23
2
1
141
179
31
15th OHAJDL
2002-03
40
18
16
4
2
162
165
42
9th OHAJDL
2003-04
40
14
18
3
5
147
153
36
13th OHAJDL
2004-05
39
4
32
2
1
106
213
11
18th OHAJDL
2005-06
38
19
17
1
1
165
147
40
10th OHAJDL
2006-07
40
30
6
0
4
193
123
64
3rd SOJHL
2007-08
40
27
11
-
2
177
109
56
4th SOJHL
2008-09
40
25
11
-
4
189
138
54
4th SOJHL
2009-10
36
30
4
-
2
166
102
62
1st SOJHL
2010-11
36
21
13
-
2
167
138
44
7th SOJHL
2011-12
36
11
24
-
1
118
176
23
13th SOJHL
2012-13
37
2
33
-
2
103
243
6
8th SOJHL-Yk
2013-14
40
3
36
-
1
71
251
7
9th SOJHL
DNQ
2014-15
40
2
35
-
3
100
262
7
9th SOJHL
DNQ
2015-16
40
4
36
0
-
108
318
8
9th of 9 SOJHL
DNQ
2016-17
40
10
28
2
-
121
178
22
8th of 9
Yeck Div - PJHL
Lost Div quarterfinal, 1-4 (Dolphins)
2017-18
40
24
14
0
2
169
119
50
4th of 9
Yeck Div - PJHL
Won Div quarterfinal, 4-2 (Trojans)
Lost Div Semifinal, 1-4 (Lancers
2018-19
40
24
12
1
3
155
119
52
4th of 9
Yeck Div - PJHL
Lost Div quarterfinal, 0-4 (Trojans)
2019-20
41
21
16
2
2
172
137
46
5th of 8
Yeck Div - PJHL
Lost Div quarterfinal
2020-21
Season cancelled due to COVID-19 pandemic
External links