History
[
]
The junior North Bay Trappers started operating in 1921-22 which was the third year of the Northern Ontario Hockey Association.
They made a very big impact in their first seven years. They finished first in six of those years. The Trappers won the Northern Ontario title in 1923-24 and 1925-26.
But in May, 1928 the town's arena burned down.
For the next 10 years there was only one season that the junior Trappers played a full schedule. That was in 1936-37 just after the new arena was built. Otherwise an all-star team was usually picked from the local junior league to represent the town in the regional playoffs. The Trappers did manage to win the 1938-39 Northern Ontario championship. But even this limited participation ended in 1939 when World War II started.
The junior Trappers would not be revived until 1962-63. There were several other teams that played out of North Bay in those years. Genrally junior hockey died out in Northern Ontario, as many players were lured to southern Ontario teams by promises of big money and possible National Hockey League careers.
The Northern Ontario Junior League was started up in 1962-63. The Trappers did very well, winning the league title in 1964, 1966 and 1968. But this league folded in 1972, after Sudbury and Sault Ste. Marie were accepted into the Ontario Hockey League.
Season-by-Season Records
[
]
1922 to 1928
[
]
Season
Games
Won
Lost
Tied
Points
Goals
For
Goals
against
Standing
Playoffs
1921-22
4
2
2
0
4
16
17
tied 1st
Lost Final
1922-23
3
3
0
0
6
14
2
1st
Lost Final
1923-24
6
4
2
0
8
34
13
1st
Won Final Lost East Quarter Final
1924-25
8
3
5
0
6
21
31
2nd
out of playoffs
1925-26
7
5
2
0
10
35
21
1st
Won Final Lost East Quarter Final
1926-27
8
6
1
1
13
-
-
1st
Lost Final
1927-28
12
7
5
0
14
-
-
1st
Lost Final
1929 to 1939
[
]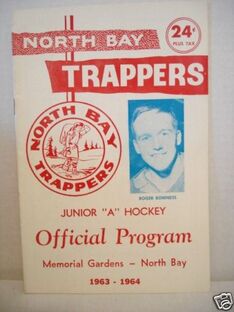 Season-by-Season results
[
]
| | | | | | | | | | | |
| --- | --- | --- | --- | --- | --- | --- | --- | --- | --- | --- |
| Season | GP | W | L | T | OTL | GF | GA | P | Results | Playoffs |
| 1962-63 | 40 | 24 | 15 | 1 | - | 231 | 165 | 49 | 3rd NOJHL | Lost Final |
| 1963-64 | 40 | 28 | 12 | 0 | - | 263 | 144 | 56 | 1st NOJHL | Won League |
| 1964-65 | 40 | 25 | 13 | 2 | - | 255 | 184 | 52 | 1st NOJHL | Lost Final |
| 1965-66 | 40 | 27 | 12 | 1 | - | 246 | 173 | 55 | 1st NOJHL | Won League |
| 1966-67 | 40 | 25 | 15 | 0 | - | 238 | 168 | 50 | 2nd NOJHL | Lost Final |
| 1967-68 | 40 | 21 | 19 | 0 | - | 195 | 177 | 42 | 3rd NOJHL | Won League |
| 1968-69 | 48 | 20 | 27 | 1 | - | 211 | 230 | 41 | 4th NOJHL | Lost Semi-final |
| 1969-70 | 48 | 23 | 23 | 2 | - | 247 | 259 | 48 | 3rd NOJHL | Lost Semi-final |
| 1970-71 | 48 | 14 | 32 | 2 | - | 161 | 249 | 30 | 4th NOJHL | Lost Semi-final |
| 1971-72 | 52 | 14 | 33 | 5 | - | 169 | 278 | 33 | 4th NOJHL | Lost Semi-final |
| 1972-73 | 44 | 13 | 29 | 2 | - | 213 | 283 | 28 | 11th OPJHL | |
| 1973-74 | 44 | 21 | 19 | 4 | - | 264 | 250 | 46 | 7th OPJHL | |
| 1974-75 | 44 | 22 | 18 | 4 | - | 238 | 208 | 48 | 8th OPJHL | |
| 1975-76 | 44 | 27 | 13 | 4 | - | 247 | 189 | 58 | 2nd OPJHL | Won League |
| 1976-77 | 44 | 27 | 11 | 6 | - | 287 | 201 | 60 | 2nd OPJHL | |
| 1977-78 | 50 | 27 | 16 | 7 | - | 285 | 245 | 61 | 4th OPJHL | |
| 1978-79 | 50 | 33 | 14 | 3 | - | 313 | 224 | 69 | 3rd OPJHL | |
| 1979-80 | 44 | 22 | 17 | 5 | - | 228 | 181 | 49 | 6th OPJHL | |
| 1980-81 | 44 | 22 | 22 | 0 | - | 240 | 253 | 44 | 6th OPJHL | |
| 1981-82 | 50 | 8 | 38 | 4 | - | 206 | 403 | 20 | 11th OJHL | |
</noinclude>