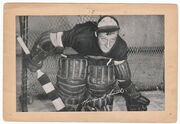 Norman "Normie" Smith (March 18, 1908 in Toronto, Ontario, Canada – February 2, 1988) was a goaltender for the Detroit Red Wings.
He started out with the Montreal Maroons in 1931-32 but did not return to the NHL until 1934-35 with the Detroit Red Wings. In 1936-37 Smith won the Vezina Trophy and was named to the first all star team.
Smith shut-out the Montreal Maroons in the NHL's longest game, a 176-minute, 30-second affair, on the way to a Stanley Cup championship in 1936.
Smith helped Detroit repeat as Stanley Cup Champions in 1937. After suffering an arm injury, he slumped in 1937–38 and the Red Wings finished last. During a game in 1939, he didn't show up, causing a rift with Jack Adams. He was then traded to Boston, where there was no way he would beat out Frank Brimsek, and he was sent to the minors. Normie Smith retired rather than report to the minor leagues. He returned to play briefly with the Detroit Red Wings when World War II left a shortage of players in the NHL.
Gallery
[
]
Video
[
]
Highlights from Game 1 of the 1937 Finals. Several goals are shown including ones by the Rangers Butch Keeling and Frank Boucher and the Wings Syd Howe. The Wings used Norm Smith (who wears a hat) and Earl Robertson in net, both are shown.
External Links
[
]