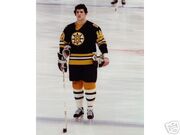 Normand "Norm" Léveillé (born January 10, 1963 in Montreal, Quebec) is a retired Canadian professional hockey left winger who played 2 seasons in the National Hockey League for the Boston Bruins.
Playing Career
[
]
Leveille was drafted in the 1st Round, 14th overall in the 1981 NHL Entry Draft. He was a highly touted prospect coming out of the QMJHL after a 101 point season in his last year with the Chicoutimi Saguenéens. He had a decent rookie campaign with the Boston Bruins, scoring 33 points in 60 games. However, personal tragedy struck Leveille in his sophomore season in the NHL.
After the first period in a game against the Vancouver Canucks that year, Leveille complained of feeling dizzy and having pains in his shoulder. As the trainers began tending to him he lost consciousness. He was immediately rushed to a hospital in Vancouver, British Columbia, Canada where doctors confirmed he had suffered a very serious brain aneurysm. Leveille was rushed into emergency surgery in an effort to save his life. After surgery he was comatose for 3 weeks. After regaining consciousness he remained hospitalized for an additional 3 weeks. He recovered enough to walk again but at the age of 19 his promising career as an NHLer was over. Doctors confirmed that his aneurysm was caused by a congenital condition and that it wasn't triggered by an on-ice incident.
In 1995 the Boston Bruins Hockey Club invited Leveille back to the closing ceremonies of the Boston Garden where he was allowed to skate on the Garden ice one last time. Bruin Captain Raymond Bourque helped escort Leveille around the ice surface during that memorable evening that closed the Garden.
Career Statistics
[
]
                                            --- Regular Season ---  ---- Playoffs ----
Season   Team                        Lge    GP    G    A  Pts  PIM  GP   G   A Pts PIM
--------------------------------------------------------------------------------------
1979-80  Chicoutimi Sagueneens       QMJHL  60   24   12   36   39  --  --  --  --  --
1980-81  Chicoutimi Sagueneens       QMJHL  72   55   46  101   46  --  --  --  --  --
1981-82  Boston Bruins               NHL    66   14   19   33   49  --  --  --  --  --
1982-83  Boston Bruins               NHL     9    3    6    9    0  --  --  --  --  --
--------------------------------------------------------------------------------------
         NHL Totals                         75   17   25   42   49  --  --  --  --  --

External Links
[
]