Norm Larson (October 13, 1920 – December 22, 2001) was a Canadian professional ice hockey right winger. He played 89 NHL games for the New York Americans, Brooklyn Americans, and New York Rangers. He was born in Moose Jaw, Saskatchewan.
He played junior hockey for the Moose Jaw Canucks in 1937-38 and for the senior Moose Jaw Millers the next two seasons. In 1940-41 he made the jump right to the NHL's New York Americans amd played full-time there for two seasons.
Larson spent 1942-43 and 1943-44 playing for the senior Port Arthur Shipbuilders, Lakehead Army-Navy, and the Port Arthur Bearcats in the Thunder Bay area. In 1944-45 he moved to the Quebec Aces.
In 1945-46 Larson returned to pro hockey and played mostly with the Hershey Bears through 1949-50. In 1946-47 he got called up for one game with the New York Rangers. Larson moved to the Calgary Stampeders in 1950 for three seasons. he played senior hockey for the Kamloops Elks in 1952-53 and then three more seasons with the Kimberley Dynamiters, retiring in 1956.
In 1953-54 he was the player-coach of the Dynamiters.
In his NHL career, Larson played in 89 games and scored 25 goals and 18 assists.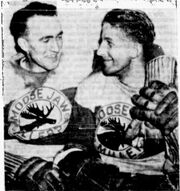 External links