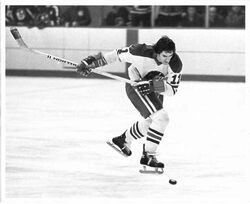 Norn Beaudin (b. November 28th 1941 in Montmartre, Saskatchewan, Canada) is a retired professional right winger who had two short NHL stints and spent four World Hockey Association seasons with the Winnipeg Jets.
Beaudin began as a pro in 1962-63 with the Hull-Ottawa Canadiens. On June 4th 1963, Beaudin was drafted by the Detroit Red Wings in the 1963 NHL Inter-League Draft After several seasons spent in Detroit's minor league system, Beaudin got a first chance to play in the National Hockey League with the St. Louis Blues in 1967-68, after they had selected him in the 1967 NHL Expansion draft; he scored once and assisted as many times in 13 games. The Blues would trade him to the New York Rangers with Camille Henry for cash in 1969; he would never play for New York, as the Rangers dealt him to the Montreal Canadiens on the very same day (June 27th) with Bobby Schmautz for Ernie Wakely. One year later, he was sold to the Minnesota North Stars; they gave him a chance to play in the big league and he collected a single assist in 12 games.
After a strong 1971-72 season with the Cleveland Barons, Beaudin was selected in the 1972 WHA General Player Draft and signed by the Winnipeg Jets, earning the distinction of being the first player signed by the new team. Beaudin responded well, with a strong 38 goals and 103 points season, playing on a line with Bobby Hull and Chris Bordeleau. That season, Beaudin topped the WHA for points in the playoffs with 28, including a solid seven points effort on April 16th 1973 against the Minnesota Fighting Saints. His numbers dropped the following seasons, and he ended his career in 1978 after two seasons spent in Switzerland with SC Langnau.
Community content is available under
CC-BY-SA
unless otherwise noted.