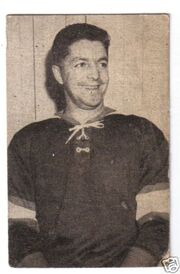 Louis "Nils" Tremblay (born July 26, 1923 in La Malabie, Quebec) is a retired Canadian professional ice hockey forward who played 3 games in the National Hockey League for the Montreal Canadiens.
He played for the junior Quebec Aces in 1942-43 and then graduated to the senior Aces in 1943-44 as they won the Allan Cup. He also led the Quebec Senior Hockey League (QSHL) in scoring.
In 1944-45 the Canadiens brought him up for a regular season game (when he scored an assist) and two playoff games. Tremblay also led the league in scoring again. He played two more games for the Canadiens in 1945-46 and then returned again to the Aces.
Tremblay continued in the QSHL, joining the Ottawa Senators in 1948-49. In that year he won his second Allan Cup and third league scoring title.
He finished off his career with the Sherbrooke Saints and then played for Riviere du Loup in the Lower St Lawrence League in 1953-54.
External links
Edit
Nils Tremblay's career stats at The Internet Hockey Database
Community content is available under
CC-BY-SA
unless otherwise noted.