Nicole Corriero
Position
Forward
Shoots
Right
Height
Weight
5 ft 5 in (1.65 m)
155 lb (70 kg)
ECAC Team
Harvard Crimson
Born
October 27 1983
Thornhill, Ontario
,
Pro Career
2001 – present

Nicole Corriero (born October 27, 1983) is a 3-time All-American ice hockey forward.
Playing career
Edit
Prior to attending Harvard, Corriero captained the North York Junior Aeros and the Scarborough Sharks.
During the 2004-05 season, she was the captain of the Harvard Crimson women's ice hockey team, becoming the all-time women's collegiate record holder for goals in a single season by scoring her 52nd goal on March 5, 2005, breaking the previous record of 51, shared by Harvard's Tammy Shewchuk and Northeastern's Vicky Sunohara, both of whom are Canadian Olympic Gold Medalists.
On March 27, 2005 Corriero tied the all-time collegiate record of 59 goals in a season, set by Michigan State's Mike Donnelly in 1986, with her first goal against St. Lawrence in the Frozen Four.
Hockey Canada
Edit
She was invited to Hockey Canada's National Women's Under 22 Development Camp in July 2003.[1]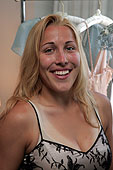 As of the Current 2008-2009 NCAA Women's Ice Hockey Season, Nicole Holds the following NCAA Individual Records:[2]
Points Scored in a Game (10) - November 7, 2003 Harvard v. Union- Tied with Jennifer Botterill
Goals Scored in a Game (6) - November 7, 2003 Harvard v. Union - Tied with Jenny Potter;
Goals Scored in a Season (59) - 2004-05 Hockey Season
Goals Scored in a Career (150) - 2002-2005
Goals Per game Average in a Season (1.64) - 2005: 59 Goals in 36 Games
Power Play Goals in a Season (24)- 2004-2005
Career Game Winning Goals (27)- 2002-2005

Honors and awards
Edit
2002 Ivy League Rookie of the Year[3]
recognizing leadership and commitment both on and off the ice.[7]
She was awarded by Harvard University Department of Athletics with the Mary G. Paget Prize for Outstanding Contribution to Women's Athletics at Harvard University[8]
In November 2005, Nicole was honoured in Toronto, Ontario by the National Congress of Italian Canadians for their annual Youth Achievement Award, recognizing scholastic and athletic excellence as well as community involvement.[9]
References
Edit
Community content is available under
CC-BY-SA
unless otherwise noted.