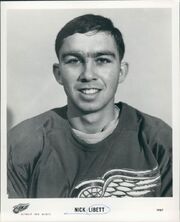 Nick Libett (born December 9, 1945 in Stratford, Ontario) was a left wing who spent much of his career playing for the Detroit Red Wings. Libett played in the playoffs only twice in his twelve seasons with the Red Wings. He was traded to the Pittsburgh Penguins, where he would finish his National Hockey League career. In 982 career games, he scored 504 points, and was captain of the Red Wings.
Libett played junior hockey with the Hamilton Red Wings for four seasons (1962-66).He spent most of the 1966-67 and 1967-68 seasons in the minors before making the Detroit Red Wings in 1968-69,
He played 11 seasons for the Wings, with 6 20-goal seasons. His best year was the 1971-72 NHL season, when he scored 31 goals, But the Wings only made the playoffs twice while he played there.
In 1979 he was traded to the Pittsburgh Penguins for Pete Mahovlich. Libett would play two seasons in Pittsburgh before retiring in 1981.