Niagara RiverHawks

Provincial Junior Hockey League
City
Niagara Falls, Ontario
Founded
1987
Franchise history
1987-1999: Chippawa Merchants
1999-2014: Chippawa RiverHawks
2014-present : Niagara RiverHawks
Head Coach
Rob DeGiuli (2017-18)
General Manager
Fred Sacco (2017-18)
Arena
Gale Centre
Team Colors
Pacific teal, black, white, burnt orange

                   

League Champions
2000 and 2001
Clarence Schmalz Cups
2001

The Niagara RiverHawks are a Canadian Junior ice hockey team based in Niagara Falls, Ontario, Canada. They play in the Provincial Junior Hockey League.
History
In 1987, the Chippawa Merchants are granted an OHA Junior C franchise and are based in the Chippawa Willoughby Arena.
In 1999, the Chippawa Merchants change their team name to the RiverHawks.
In 2001, the RiverHawks defeated the Belle River Canadiens of the Great Lakes Junior C Hockey League 4-games-to-1 to win the Clarence Schmalz Cup as Ontario Hockey Association provincial Junior C champions.
In 2010, the RiverHawks leave the Chippawa Willoughby Arena for the brand new Gale Centre, located in Niagara Falls. As a part of the move the team changed colours from their original red, white and black scheme to teal, gray and white with orange trim.
In 2014, the RiverHawks were granted a name change to the Niagara RiverHawks to reflect their use of the Gale Centre in Niagara Falls as their home arena, and their at-large status by not being affiliated with a specific Junior B hockey club.

For the 2016-17 season the Riverhawks became part of the Junior C hockey re-structure in Southern Ontario. All junior C leagues joined under one umbrella as the Provincial Junior Hockey League. The former Niagara & District Junior C Hockey League became the Bloomfield Division of the South Conference.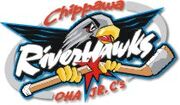 Season-by-season record
Note: GP = Games Played, W = Wins, L = Losses, T = Ties, OTL = Overtime Losses, GF = Goals for, GA = Goals against
Season
GP
W
L
T
OL
GF
GA
Points
Finish
Playoffs
1987-88
39
13
21
5
-
185
226
31
6th NJC-E
1988-89
40
23
14
3
-
--
--
49
1st NJC-E
1989-90
40
16
22
2
-
--
--
34
5th NJC-E
1990-91
36
11
19
6
-
174
211
28
4th NJC-E
1991-92
36
19
15
2
-
189
152
40
3rd NJC-E
Lost Final
1992-93
42
27
9
6
-
265
140
60
2nd NJC-E
1993-94
41
26
11
4
-
240
158
56
3rd NJC-E
1994-95
35
31
2
2
-
223
87
64
1st NJC-E
1995-96
36
17
10
9
-
148
136
43
3rd NJC-E
1996-97
36
25
10
1
0
191
133
51
3rd NJC-E
1997-98
42
25
14
2
1
214
145
53
3rd NJC-E
1998-99
36
22
12
2
0
153
107
46
3rd NJC-E
1999-00
36
32
4
-
0
220
98
64
1st NJC-E
Won League, Lost CSC SF
2000-01
36
31
0
4
1
202
79
67
1st NJC-E
Won League, Won CSC
2001-02
36
25
9
1
1
173
110
52
1st NJC-E
2002-03
36
15
12
6
1
109
93
37
5th NJCHL
2003-04
36
18
16
2
0
140
159
38
6th NJCHL
2004-05
36
18
15
2
1
136
127
39
6th NJCHL
2005-06
36
11
19
3
3
135
177
28
8th NJCHL
Lost Quarter-final
2006-07
36
13
21
1
1
147
190
28
9th NJCHL
2007-08
36
14
18
2
2
161
166
32
10th NJCHL
Lost Semi Final
2008-09
36
19
14
-
3
171
150
41
8th NJCHL
lost Semi Final
2009-10
36
20
13
-
3
155
151
43
4th NJCHL
Lost Quarter-final
2010-11
36
9
26
-
1
110
196
19
11th NJCHL
Lost Quarter Final
2011-12
36
15
18
-
3
119
129
33
9th NJCHL
Lost Semi Final
2012-13
38
19
15
-
4
139
125
42
4th NJC-E
2013-14
35
17
10
-
8
124
115
42
4th NJCHL
Lost Quarter-final
2014-15
42
21
20
-
1
146
143
43
6th NJCHL
Lost Quarters
2015-16
42
20
19
1
2
160
171
43
5th of 8 NJCHL
Lost Quarters
2016-17
42
13
28
1
-
140
188
27
7th of 8-PJHL
Bloomfield Div
Lost Div Quarters
2017-18
42
12
23
3
4
158
210
31
6th of 8-PJHL
Bloomfield Div
Lost Div Quarters
2018-19
42
20
17
0
5
143
181
45
5th of 8-PJHL
Bloomfield Div
Lost Div Quarters
2019-20
43
15
24
0
3
134
167
33
6th of 8-PJHL
Bloomfield Div
Lost Div Quarters
2020-21
Season cancelled due to COVID-19 pandemic
Clarence Schmalz Cup appearances
2001: Chippawa Riverhawks defeated Belle River Canadiens 4-games-to-1
External links