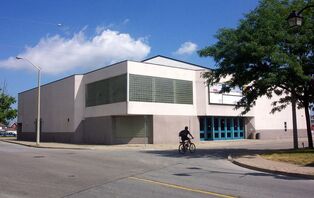 The Niagara Falls Memorial Arena was an arena located in Niagara Falls, Ontario, Canada. It was built in 1950 and has a capacity of approximately 3,000. The arena was home to various ice hockey teams in the past, including the Niagara Falls Thunder and the Niagara Falls Flyers. It currently serves as the home of the Niagara Falls Cannucks, a team in the Greater Ontario Junior B Hockey League. The city has discussed building a new arena to replace it and development is well under way. The new arena will have a similar capacity in one of the four ice pads, with the other three having a modest capacity for recreational hockey and skating league purposes. The new facility will become a community center, of sorts, for ice-based activities with offices for figure skating and house-league hockey organizations. The Niagara Falls Memorial Arena is scheduled to be demolished to make room for a parking lot upon completion of the new four-pad arena in 2010. Updates on the project and the state of the old Memorial Areana can be found on the City of Niagara Falls website at www.niagarafalls.ca
The arena will get one last chance to relive its glory days by hosting an Ontario Hockey League game before it fades into the city's history.
The Niagara IceDogs hosted the Ottawa 67's on March 1 at the Memorial Arena, which in its heyday was home to the Niagara Falls Flyers and Niagara Falls Thunder hockey teams. The fundraising event helped to bring in cash to go toward construction of the Bob Gale Centre, the city's $38-million four-pad arena complex to be built on Fourth Avenue, property formerly occupied by the Cyanamid plant.
Council agreed in January to name its future arena complex after Gale, who donated $1 million toward its construction and $250,000 to create a fund to help families defray the cost of registration for minor hockey and figure skating.
The Niagara Falls Memorial Arena was used for the 1995 released movie Canadian Bacon.  The arena was the setting for the start of tensions between the United States and Canada when John Candy (playing Niagara County, NY Sheriff Bud Boomer)  says "Their Beer Sucks" and is promptly attacked by a member of the "Ontario Beavers" with the last name "Lemieux" on the back of his jersey which in turn set off a full scale riot in the arena.
Community content is available under
CC-BY-SA
unless otherwise noted.