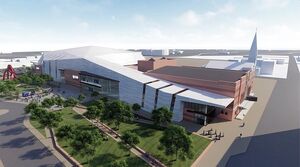 The New James Brown Arena is the working name of an arena in the planning stages in Augusta, Georgia. Based on current plans the arena will seat 10,000 and likely open in either 2022 or 2023 based on when construction starts. Based on current plans an ice making plant is not a certainty for the facility.
Background
[
]
Plans to replace the original James Brown Arena were announced in 2020 as the ice making plant in the old arena failed in 2013 forcing the Augusta Riverhawks of the Southern Professional Hockey League to finish their schedule at their practice facility and then going dormant for several seasons prior to relocating to Macon, Georgia for the 2015-16 season.
The estimated price to replace the ice making system in 2013 was $1.2 million.  The age of the building (mid-1970's opening) had lead many to believe that hockey will not return to Augusta until the city builds a new facility, which the county's voters shot down in a referendum in 2004. [1]
In 2020 plans were put forward to replace the venue with a new $228 million facility that allow for more concerts to come to Augusta and allow for the possibility of an ice making plant for the new arena. The design would be worked into the 2,800 seat Bell Auditorium, allowing the two venues to share certain facilities, and would call for the demolition of the existing arena.[2] The Bell Auditorium is planned to remain open while the new arena is under construction.