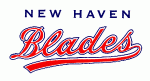 The New Haven Blades were a professional team in New Haven, Connecticut. They played in the Eastern Hockey League from 1954 to 1972.
They won the league playoff championship in 1955-56. The Blades won division titles in 1955-56, 1960-61, and 1970-71. They made the league finals and lost in 1959-60, 1960-61, and 1970-71.
The Blades played in the 4000 seat New Haven Arena.
In 1972 the team was renamed the New England Blades based in West Springfield, Massachusetts.
The team folded along with the league in 1973. In 1972 New Haven then got a team in the American Hockey League called the New Haven Nighthawks.
Blades who played in the NHL