Navan Grads

City:
Navan, Ontario
League:
Central Hockey League
Division:
Yzerman
Founded:
1974
Home Arena:
Navan Arena
Colors:
Blue, Silver and White


              

Owner(s):

Steve Barban

General Manager:
Marty Abrams (2018-)
Head Coach:
Marty Abrams (2018-
Franchise history
19xx-1974:
Rockland Boomers
1974-1989:
Navan Grads
1989-2017:
Cumberland Grads
2017-Present:
Navan Grads
The Navan Grads are a Junior "A" ice hockey team from Navan, Ontario, Canada. They are a part of the Central Junior A Hockey League.
History
In the Summer of 1974, the residents of Navan, Ontario banded together and purchased the rights of the Eastern Ontario Junior Hockey League's Rockland Boomers. They moved them to Navan, and the Grads were born. In 1989, the board of directors for the Navan Grads felt that the region of Cumberland would be better suited with a team that reflected the region. The team's name from then on was the "Cumberland Grads".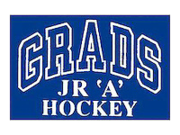 In the Summer of 1991, the Grads became the 10th team in the Central Junior A Hockey League and have been a member of the CJHL ever since. The Grads best season came in 2002-03 when the team finished 1st overall and were major contenders to qualify for the Fred Page Cup. The Grads won their first-ever playoff series against the Kanata Stallions defeating them 4 games to 0. The Ottawa Jr. Senators upset the Grads 4 games to 2 in the semi-finals, when game 6 went to triple overtime and Ottawa scored the game-winning goal on a penalty shot in the third overtime period. Craig Nooyan, Christian Boucher, Jason Murfitt, Jonathon Matsumoto, Brent Patry, Brendan MacIntyre, and Craig Baxter were among several returning players for 2003-04. The Grads wound up finishing second overall, and suffered a first-round upset to the Kanata Stallions in seven games. Despite, that the Grads were up 3 games to 1.
Assistant coach Mark Grady took over Bruce Johnson's duties as head coach in 2004-05. Claude Giroux made his rookie debut with the Grads, despite not being an interest to the Ontario Hockey League at the 2005 draft. Giroux was selected by the QMJHL's Gatineau Olympiques.
The Grads missed the playoffs multiple times since then or have failed to make it past the first round in the CJHL playoffs.
Season-by-Season record
Season
GP
W
L
T
OL
GF
GA
Pts
Finish
Playoffs
1981-82
35
16
17
2
-
228
221
34
4th EO-NWest
1982-83
36
16
16
4
-
197
201
36
3rd EO-AEng
1983-85
Statistics Not Available
1985-86
35
27
8
0
-
251
149
54
2nd EO-AEng
1986-87
40
18
17
5
-
212
201
41
2nd EO-Metro
1987-91
Statistics Not Available
1991-92
57
15
39
1
2
217
344
33
8th CJHL
1992-93
57
10
43
2
2
223
370
24
9th CJHL
1993-94
57
10
45
1
1
235
419
22
10th CJHL
1994-95
54
13
29
6
6
219
302
38
9th CJHL
1995-96
54
22
30
2
-
234
272
46
8th CJHL
1996-97
54
16
31
7
-
197
278
39
9th CJHL
1997-98
56
19
20
13
4
203
239
55
8th CJHL
1998-99
54
18
33
3
-
194
270
39
9th CJHL
1999-00
56
22
27
7
-
214
261
51
9th CJHL
2000-01
55
12
35
8
-
177
273
32
9th CJHL
2001-02
55
23
26
5
1
230
242
52
6th CJHL
2002-03
55
36
13
5
1
298
179
78
1st CJHL
Lost Semi-final
2003-04
55
35
14
5
1
250
173
76
2nd CJHL
Lost Quarter-final
2004-05
57
23
30
2
2
178
222
50
7th CJHL
2005-06
57
23
29
5
0
183
214
51
4th in Robinson
Lost Quarter-final
2006-07
55
11
37
5
2
158
247
29
5th in Robinson
DNQ
2007-08
60
34
20
3
3
221
182
74
4th CJHL
2008-09
60
38
16
-
6
244
187
82
3rd CJHL
Lost Quarter-final
2009-10
62
29
26
-
7
205
204
65
7th CJHL
Lost Quarter-final
2010-11
62
21
34
-
7
179
252
49
11th CCHL
DNQ
2011-12
62
21
35
-
6
190
258
48
10th CCHL
DNQ
2012-13
62
18
38
-
6
189
275
42
11th CCHL
DNQ
2013-14
62
21
31
-
10
170
217
52
10th CCHL
DNQ
2014-15
62
15
43
2
2
139
271
34
5th of 6 Yzerman-11th of 12 CCHL
DNQ
Season
GP
W
L
T
OL
GF
GA
Pts
Finish
Playoffs
2015-16
62
36
19
5
2
258
185
79
2nd of 6 Yzerman-5th of 10 CCHL
Lost Quarterfinals, 0-4 (Braves)
2016-17
62
24
34
2
2
194
216
52
3rd of 6 Yzerman-9th of 12 CCHL
DNQ
2017-18
62
9
52
1
0
130
272
19
6th of 6 Yzerman-12th of 12 CCHL
DNQ
2018-19
62
25
28
6
3
168
191
59
4th Yzerman
Lost Quarterfinals, 0-4 (Canadians)
2019-20
62
29
32
-
1
204
229
59
4th Yzerman
DNQ
2020-21
League only played training games due to COVID-19 pandemic
Championships
CJHL Bogart Cup Championships: None
Eastern Canadian Fred Page Cup Championships: None
CJAHL Royal Bank Cup Championships: None
External links