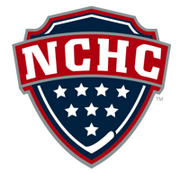 The National Collegiate Hockey Conference was founded July 13, 2011.  The founding six members are Colorado College, University of Denver Miami University (Ohio), University of Minnesota-Duluth, University of Nebraska-Omaha, and University of North Dakota.  St. Cloud State and Western Michigan University accepted invitations to join the new conference.
The formation of the league was motivated by the decision of Penn State University to start a varsity hockey program in the spring of 2011.  This gave the Big Ten Conference enough members to start a Division I hockey league for the 2013-14 academic year.  The fall out also led to the demise of the Central Collegiate Hockey Association
The league is based out of Colorado Springs, Colorado.  Jim Scherr was named the league's first commisioner in January 2012.  He was replaced by Josh Fenton on July 1, 2013.
Arenas
First season
The league took to the ice for the 2013-14 season with the eight teams being grouped into a single table. The first league games were held on October 18, 2013.  The regular season ended on March 8, 2014.  The regular season champions, the St. Cloud State Huskies, were awarded the Penrose Cup.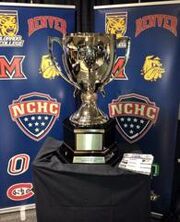 The league's inaugural post season tournament was NCHC Frozen Faceoff.  All eight members participated in the tournament  wiith the first round being a best-of-three held on campus sites (at the higher seed) involving teams paired off  as 1 vs 8, 2 vs 7, 3 vs 6, 4 vs 5. The semifinals and final were held  at the Target Center in Minneapolis, Minnesota on March 21 and 22, 2014.  There was also a consolation game involving the semifinal losing teams.   The tournament winner, Denver Pioneers received an automatic bid to the NCAA Men's Division I Ice Hockey tournament.
Second Season
The league released a schedule involving the same eight teams as the previous season.  The conference championship will be held at the Target Center in Minneapolis, Minnesota April 20-21, 2015.
Regular Season Champions (Penrose Cup)
Frozen Faceoff Champions
Seasons
Sources