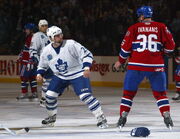 Nathan Perrott (born December 8, 1976 in Wingham, Ontario) was a Canadian professional ice hockey player.
Hockey career
Edit
Perrott was drafted by the New Jersey Devils in the second round of the 1995 NHL Entry Draft, with the 44th overall pick. Unsigned by New Jersey, he became a member of the Chicago Blackhawks for three and a half years before being traded to the Nashville Predators in 2001.
He made his NHL debut with Nashville during the 2001–02 NHL season, registering 3 points and 74 penalty minutes in 21 games. Perrott continued to play within the Nashville organization before being traded to the Toronto Maple Leafs in 2003 for Bob Wren. In the 2003–04 NHL season, Perrott was a long shot to crack the Maple Leafs roster but spent the entire season playing in Toronto, registering 3 points and 174 penalty minutes in 40 games.
At the beginning of the 2005–06 NHL season was traded to the Dallas Stars for a 5th round draft pick.
Unable to find work with an NHL club, Perrott played parts of the 2008-09 season with Vityaz Chekhov of the Kontinental Hockey League.
Perrott retired in September, 2009. Known as a fighter in hockey, he became a professional boxer.
External links
Edit
Community content is available under
CC-BY-SA
unless otherwise noted.