Nancy Drolet
Position
Forward
Height
Weight
5 ft 6 in (1.68 m)
139 lb (63 kg)
Born

Drummondville, Quebec
August 2, 1973,
Pro Career
1992 – present
Nancy Drolet (born August 2, 1973 in Drummondville, Quebec) is a Canadian ice hockey player[1]. She is the daughter of Mr. Denis Drolet and Mrs. Viviane Dubé. She was named Sport Federation Canada Junior Athlete of the Year in 1992.
Playing career
[
]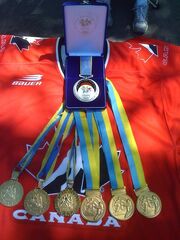 Drolet was also an accomplished softball player, and was a member of the Canadian National Softball team in 1990 and 1991.[2] Drolet played for Team Quebec at the 1991 Canada Winter Games and was also a member of the Vancouver Griffins. Drolet played for the Sherbrooke Jofa-Titan squad in the League Régionale du Hockey au Féminin in the province of Québec. In 1994, Drolet would become the team captain, and its general manager.[3] During the 1999-2000 season, Nancy Drolet played for the Sainte-Julie Pantheres and scored 29 goals and added 17 assists. [4]
She won a silver medal at the Nagano Olympic Games in Japan and played for her country in six world championships. She twice scored goals in overtime to help Canada to wins in the 1997 and 2000 world championships. In doing so, became the first person in the history of the IIHF Women's World Hockey Championships to score two gold medal clinching goals in overtime. She accomplished the feats on April 6,1997 and April 9,2000.[5] During the 1999-2000 season, Nancy Drolet played for the Sainte-Julie Pantheres and scored 29 goals and added 17 assists. [6] In 2002, she came out as a lesbian[7]
Awards and honors
[
]
1993 Junior Athlete of the Year (selected by the Sports Federation of Canada) [8]
References
[
]