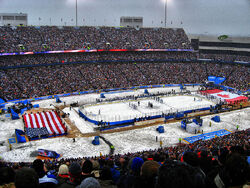 The NHL Winter Classic is an annual event held by the National Hockey League where regular-season games are played outdoors.
The first was played on January 1, 2008, between the Pittsburgh Penguins and Buffalo Sabres at Ralph Wilson Stadium in Orchard Park, New York. This game had an NHL-record crowd of 71,217 fans in attendance. The success of the 2008 NHL Winter Classic led the NHL to schedule a second one for 2009, held at Wrigley Field in Chicago, Illinois, on January 1, 2009, matching the Detroit Red Wings against the Chicago Blackhawks. This game had the highest television ratings of any hockey game in 33 years. The success of the 2009 NHL Winter Classic has solidified "The Classic" as an annual event from then on. The Winter Classic was the brainchild of then NHL Executive VP/Business & Media John Collins.[1]
The third Winter Classic was held at Fenway Park in Boston, Massachusetts, on January 1, 2010, featuring the Boston Bruins and the Philadelphia Flyers. The result was a dramatic 2-1 overtime win for Boston, making the Bruins the first home team to win an NHL outdoor game. The announcement of the 2010 Winter Olympics roster for the United States men's national ice hockey team was made shortly after the game had ended.
Outdoor effects of wind and sun glare may give an unfair advantage to one team, so the NHL sometimes modifies the third and overtime periods. In this case, play is stopped at the midway point and teams switch directions. This option was exercised in 2008.
The first outdoor NHL exhibition game was on September 28, 1991, when the Los Angeles Kings played the New York Rangers outside Caesars Palace on the Las Vegas Strip.[2]
The Winter Classic was preceded by the 2003 Heritage Classic which took place on November 22, 2003, at Edmonton's Commonwealth Stadium. The Heritage Classic was between the Edmonton Oilers and the Montreal Canadiens and was the first regular season outdoor game in the history of the National Hockey League.
The National Hockey League is planning to have six outdoor games for the 2013-2014 season:
January 1, 2014 Detroit Red Wings vs. Toronto Maple Leafs at Michigan Stadium,  in Ann Arbor, MI (planned to be called the 2014 Winter Classic after the 2013 Winter Classic was cancelled by the lockout)
January 25, 2014 Los Angeles Kings vs. Anaheim Ducks at Dodger Stadium
January 26, 2014 New Jersey Devils vs. New York Rangers at Yankee Stadium
January 29, 2014 New York Islanders vs. New York Rangers at Yankee Stadium
March 1, 2014 Chicago Blackhawks vs. Pittsburgh Penguins at Soldier Field
March 2, 2013 Vancouver Canucks vs. Ottawa Senators at BC Place (planned to be the Heritage Classic)
The middle four games are collectively being called the "Stadium Series 2014"
source: http://espn.go.com/nhl/story/_/id/9180372/nhl-plans-6-outdoor-games-2014-including-los-angeles-new-york-chicago-vancouver-sources-say
The National Hockey League announced on their website nhl.com on September 21, 2013 that the Washington Capitals will host the 2015 Winter Classic on January 1, 2015. According to the story, the venue has not been decided.  The possible venues include RFK Stadium (home of DC United of Major League Soccer), FedEx Field (home of the NFL's Washington Redskins) and Nationals Park (home of MLB's Washington Nationals).  No opponent was mentioned in the news story
source: http://www.nhl.com/ice/news.htm?id=683348&navid=nhl:topheads
According to a published report on thescore.com the NHL is planning to have a total of five outdoor games during the season. Possible venues mentioned included:
Beaver Stadium on the campus of Penn State University (with a Philadelphia Flyers-Pittsburgh Penguins match up).
Cowboys Stadium (Arlington TX) as Cowboys and stadium owner Jerry Jones has shown an interest in hosting a game for the Dallas Stars.
AT & T Park in San Francisco (home of the San Francisco Giants of MLB ) has shown an interest in hosting a San Jose Sharks game.
Either Target Field (home of the Minnesota Twins of MLB) or TCF Bank Stadium (in Minneaplis on the campus of the University of Minnesota Golden Gophers). However, the owner of the Minnesota Wild Craig Leipold,  has stated he was only interested in hosting a Winter Classic game.
A 2015 Heritage Classic was also mentioned as a possiblity with no specific venue mentioned.
Edition
Name
Date
Site
Attendance
Home team
Score
Away team
Notes
2003
Heritage Classic
November 22, 2003
Commonwealth Stadium, Edmonton, Alberta
57,167
Edmonton Oilers
3–4
Montreal Canadiens
First regular season NHL outdoor game.
Predecessor to the Winter Classic.
2008
AMP Energy NHL Winter Classic
January 1, 2008
Ralph Wilson Stadium, Orchard Park, New York
71,217
Buffalo Sabres
1–2 (SO)
Pittsburgh Penguins
First Winter Classic. It was colloquially called the "Ice Bowl" around Buffalo.
2009
Bridgestone NHL Winter Classic 2009
January 1, 2009
Wrigley Field, Chicago, Illinois
40,818
Chicago Blackhawks
4–6
Detroit Red Wings
This is the first Classic to feature two Original Six teams, as well as the first to be played in a baseball stadium.
2010
Bridgestone NHL Winter Classic 2010
January 1, 2010
Fenway Park, Boston, Massachusetts
38,112
Boston Bruins
2–1 (OT)
Philadelphia Flyers
First Winter Classic won by the home team, first Classic without Ty Conklin as a goalie, as well as the first containing an official fight.
2003 Edmonton Oilers: 1979-80
2003 Montreal Canadiens: 1978-79
2008 Pittsburgh Penguins: 1970-71
2008 Buffalo Sabres: 1970-71
2009 Detroit Red Wings: 1926-27
2009 Chicago Blackhawks: 1935-36 design with 1948-49 logo
2010 Philadelphia Flyers: 1973-74 with slight modifications to number and nametag
2010 Boston Bruins: 1958-59 design with brown stripes instead of black and 1948-49 logo
Community content is available under
CC-BY-SA
unless otherwise noted.