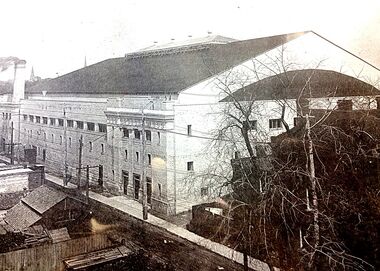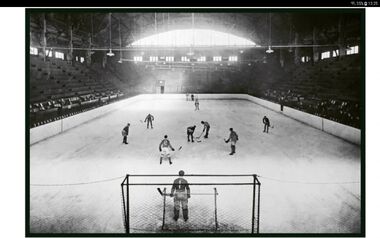 Mutual Street Arena, initially called Arena Gardens or just the Arena, was a hockey arena in Toronto, Ontario. It was constructed for a reported cost of $500,000 and opened in 1912. At the time, it was billed as the largest indoor arena in Canada and held about 7,500 for hockey. The rink was owned by the Toronto Arena Company, organized September 19, 1911 with Sir Henry Pellatt as president, Lol Solman as managing director, and directors Aemilius Jarvis, Joseph Kilgour, T.W. Horn, R.A. Smith, and Col. Carlson. There were two other directors from Montreal. It was built on the site of the Mutual Street Rink, used primarily for curling and skating between Dundas Street and Shuter Street.
Arena Gardens was initially home to two new teams in the National Hockey Association: the Toronto Blueshirts and the Toronto Tecumsehs. Delays in construction meant that the teams could not play in the 1911-12 season, as was originally scheduled. The Stanley Cup finals were played at Arena Gardens three times, with the Toronto team winning each time. The Cup was won by the Toronto Blueshirts in 1914, by the Toronto Arenas in 1918 (the first National Hockey League team to win the Cup), and by the Toronto St. Pats (formerly the Toronto Arenas) in 1922. Arena Gardens also hosted the Memorial Cup finals nine times from 1919 to 1931. It was from Arena Gardens that radio pioneer Foster Hewitt broadcast his first hockey game on February 16, 1923. The St. Pats became the Toronto Maple Leafs in 1927, and played at Arena Gardens until the construction of Maple Leaf Gardens in 1931.
It also served as a neutral site for several other NHL games during the mid-1920s. For a time, the Arena Gardens was the only facility in Canada east of Manitoba with artificial ice until the Ottawa Auditorium opened in December 1923.