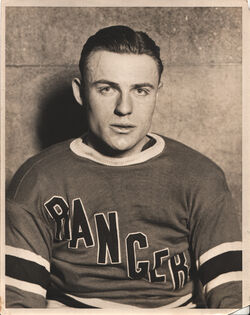 John Murray Murdoch (b. May 19, 1904 in Lucknow, Ontario – d. May 17, 2001 was a Canadian professional ice hockey player and coach.
Born in Lucknow, Ontario and raised in Edgerton, Alberta, he attended the University of Manitoba where he played hockey from 1921 to 1924. He won the Memorial Cup in 1922-23.
He played left wing for the New York Rangers from the Rangers' first season in the 1926–27 NHL season until the 1936–37 NHL season. He played in 508 games and scored 84 goals and 108 assists. Murdoch also won two Stanley Cups, in 1927-28 and 1932-33.
Murdoch retired in 1938 after spending one season with the Philadelphia Ramblers as captain and assistant coach.
From 1938 to 1965, he was the fourth head coach of Yale University hockey team. In 1974, he was awarded the Lester Patrick Trophy for his contribution to hockey in the United States.
Awards & Achievements
External links