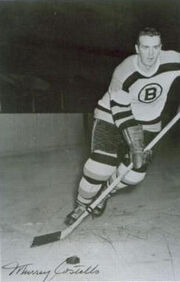 Murray Costello (born February 24, 1934, South Porcupine, Ontario) was inducted into the Hockey Hall of Fame in 2005 as a builder. He was president of the Canadian Amateur Hockey Association then Hockey Canada. He also played in the NHL for the Chicago Black Hawks, Boston Bruins and Detroit Red Wings in a 163-game NHL career.
The centre played three seasons with the St. Michael's Majors (1950-53) and then signed with the Chicago Black Hawks. He was traded first to the Boston Bruins and then to the Detroit Red Wings. A season with the minor pro Edmonton Flyers and two with the senior Windsor Bulldogs and Costello retired in 1960. In the NHL he scored 13 goals and 19 assists.
He then went back to school to get his law degree. He worked for the Seattle Totems, the Western Hockey League, and the World Hockey Association.
In 1979 he became president of the Canadian Amateur Hockey Association (CAHA). Costello did important work in, among other things, women's hockey, the merging of Hockey Canada with the CAHA, IIHF technical matters, and the Hall of Fame.
Costello retired from the CAHA in 1998.
Gallery
External Links