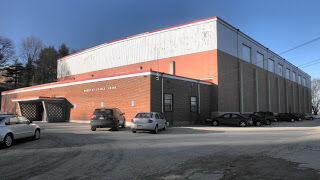 The Brother Adelard Arena (also known as the Mount St. Charles Arena) is an indoor arena located on the campus of Mount St. Charles Academy (High School) in Woonsocket, Rhode Island.  The arena is home to the school's hockey program which has produced numerous state titles including 26 straight state titles from 1978 to 2003 and ten titles between 1933 and 1947 .  The school has won a total of 44 state championships as of the 2016-17 season. The arena opened in 1963.
The Rhode Island Eagles of the Eastern Hockey League played out of the arena during the league's final 1972-73 season.
The arena is unusual in that it has chainlink fencing instead of plexiglass  above the boards.