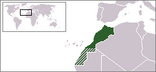 Morocco is a nation of about 32,000,000 people in northwestern Africa. Its capital is Rabat and largest city is Casablanca. Morocco was admitted to the International Ice Hockey Federation in 2010. The national sanctioning body is called the Royal Moroccan Ice Hockey Federation (Fédération Royale Marocaine de Hockey sur Glace in French).
Morocco

Info

Rinks

Players

Referees

Population

38,993,000

Indoor

1

Total

90

Male

--

Capital

Rabat

Outdoor

0

Male

50

Female

--

IIHF Since

May 22 2010

Junior

40

Female

0

There is an ice rink there; there is also a small hockey league with the Rabat Capitals, Les Ifis, Falcons, and Cobras participating. Morocco has not played in any IIHF tournaments.
National Team
Edit
Community content is available under
CC-BY-SA
unless otherwise noted.