The Montreal Voyaguers were a minor professional team in the American Hockey League for two seasons - 1969-70 and 1970-71.
History
During the late 1960's the National Hockey League's Montreal Canadiens had working agreements with several teams in the American Hockey League and had their main farm teams in the Central Hockey League.
Those farm teams were at first the Omaha Knights and then the Houston Apollos. Both of these teams were far from Montreal and the travel expenses were very large.
During these years the Montreal Junior Canadiens of the Ontario Hockey Association were drawing huge crowds, It looked like there was a good market in the city for hockey.
In 1969 the Canadiens approached the American Hockey League (AHL) with a proposal to buy a franchise and set it up in Montreal, making it their only farm team. They managed to sell the AHL on the idea despite that league's reluctance to set up a team in an NHL city.
The team did very well on the ice. In those years the Canadiens had many draft choices from other NHL teams and had a huge supply of very talented players.
The Voyageurs, however, were a disaster off the ice, There were several reasons for this:
1, The Montreal Expos of Major League Baseball started play in 1969, They used up a lot of the sports fans' money.
2. The Montreal Alouettes of the Canadian Football League, who had done poorly throughout the 1960's, underwent a revival in 1970, They also took away money from sports fans,
3. The Montreal Junior Canadiens still did well at the gate in 1969-70.
4. Montreal hockey fans were used to the best. The junior team was best at its level, The Voyaguers were only a minor professional team - way below the Canadiens themselves.
5. There was an economic slump in Montreal after the 1967 World's Fair (Expo 67).
In 1970-71 the Canadiens moved some of the Voyageurs' games to Halifax, The move was made permanent in 1971 for the 1971-72 season as the team became the Nova Scotia Voyageurs.
Season-by-season records
Season
Games
Won
Lost
Tied
Points
Goals
for
Goals
against
Standing
Playoffs
1969–70
72
43
15
14
100
327
195
1st, East
Lost 2nd Round
1970–71
72
27
31
14
68
215
239
2nd, East
Lost 1st Round
Coaches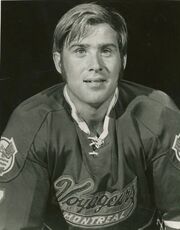 Voyageurs who played in the NHL
This long list is a tribute to the very deep roster of the Montreal Canadiens. The team did, after all, only last for two seasons.