This article is about the senior team. For the article about the junior team of the same name, please see Montreal Junior Royals.
History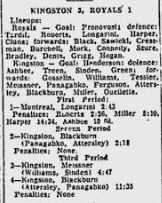 The Montreal Royals were formed in 1932-33 when the hockey club of the Montreal AAA was split off.
They played in the Montreal Senior Group, Quebec Senior Hockey League, Quebec Senior Hockey League (Major), and the Quebec Hockey League until the latter folded in 1958-59, They then joined the Eastern Professional Hockey League for two seasons until finally folding in 1961.
The Royals won only one Allan Cup in 1946-47. They also lost the Allan Cup final in 1938-39. But they were a powerhouse for many years, winning their league title in 1934-35, 1935-36, 1936-37, 1938-39, 1939-40, 1940-41, and 1945-46 (as well as 1946-47).
During the late 1930's they outdrew the NHL's Montreal Canadiens and were partially responsible for almost driving them out of town. Later they would become a Canadiens farm team.
In the 1950's there was talk of admitting the Royals to the National Hockey League.
When the Quebec Hockey League folded in 1959, the Royals tried to get into the American Hockey League (AHL) with the Quebec Aces. While the Aces were admitted, the Royals were refused. The AHL did not want a team in a National Hockey League city. The Royals then joined the newly-formed Eastern Professional Hockey League.
By this time the Canadiens were a powerhouse themselves and drawing very, very well. There was no room in Montreal for a minor pro team. The Royals folded in 1961.
Season-by-Season Records
Season
Games
Won
Lost
Tied
Points
Goals
for
Goals
against
Standing
Playoffs
1932-33
12
6
5
1
13
30
25
3rd
Won Final & Quebec, Lost East Semi Final
1933-34
16
10
4
2
23
51
32
2nd
Lost Semi Final
1934-35
20
12
5
3
33
74
56
1st
Won Final & Quebec, Lost East Final
1935-36
22
14
4
4
36
93
61
1st
Won Final & Quebec, Lost East Semi Final
1936-37
22
17
3
2
38
61
30
1st
Lost Final
Season
Games
Won
Lost
Tied
Points
Goals
for
Goals
against
Standing
Playoffs
1937-38
22
7
11
4
21
63
65
6th
out of playoffs
1938-39
22
12
4
6
34
-
-
1st
Won Final, Quebec, East, Lost Allan Cup
1939-40
30
13
8
9
35
119
91
1st
Won Final & Quebec, Lost Eastern Final
1940-41
35
21
12
2
44
151
113
2nd
Won Final & Quebec, Lost Eastern Final
1941-42
40
13
19
8
34
126
152
5th
out of playoffs
1942-43
34
11
18
5
27
114
145
6th
Lost Quarter Final
1943-44
15
7
6
2
16
80
78
2nd
Lost Final
1944-45
24
18
5
1
37
161
48
1st
Lost Final
1945-46
40
30
8
2
62
209
131
1st
Won Final & Quebec, Lost East Final
1946-47
40
25
13
2
52
173
124
2nd
Won Final & Quebec & East & Allan Cup
1947-48
48
34
14
0
68
-
-
2nd
Lost Quarter Final
1948-49
59
35
19
5
75
217
178
3rd
Lost Semi Final
1949-50
60
27
24
9
63
206
188
4th
Lost Semi Final
Season
Games
Won
Lost
Tied
Points
Goals
for
Goals
against
Standing
Playoffs
1950-51
60
28
29
3
59
200
203
4th
Lost Semi Final
1951-52
60
30
24
6
66
219
204
2nd
Lost Quarter Final
1952-53
60
32
22
6
70
201
162
2nd
Lost Semi Final
Season
Games
Won
Lost
Tied
Points
Goals
for
Goals
against
Standing
Playoffs
1953-54
72
40
25
7
87
261
197
2nd
Lost Semi Final
1954-55
62
30
28
4
64
232
207
3rd
Lost Final
1955-56
64
34
23
7
75
191
162
2nd
Won Final Lost Edinburgh Trophy
1956-57
68
28
34
6
64
191
211
4th
Lost Semi Final
1957-58
64
29
30
5
63
227
219
3rd
Lost Semi Final
1958-59
62
34
22
6
74
206
162
1st
Won Final
Season
Games
Won
Lost
Tied
Points
Goals
for
Goals
against
Standing
Playoffs
1959-60
70
30
26
14
74
265
198
2nd
Won Final
1960-61
70
19
37
14
52
167
224
6th
Out of Playoffs
Montreal Royals who played in the NHL