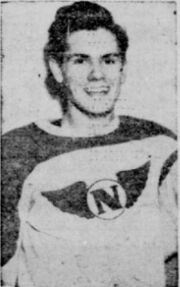 History
The Montreal Nationale were a senior and a junior team.
The senior team played from 1910 to 1926.
There were three different junior teams. The first played from 1920-25. The second played from 1944-52 and won the provincial title in 1947-48. The third played from 1956-58 and won the Quebec title in 1956-57.
Senior Team
Season-by-Season Records
Season
Games
Won
Lost
Tied
Points
Goals
for
Goals
against
Standing
Playoffs
1910-11
10
9
1
0
18
47
18
Tied 1st
Won Final
1914-15
10
8
2
0
16
-
-
2nd
out of playoffs
1915-16
10
1
9
0
2
17
35
6th
out of playoffs
1916-17
10
4
5
1
9
-
-
4th
out of playoffs
1918-19
10
3
7
0
6
16
38
5th
out of playoffs
1919-20
7
2
5
0
4
-
-
7th
out of playoffs
1920-21
7
6
1
0
12
32
16
1st
Lost Final
1921-22
7
5
2
0
10
26
27
3rd
Lost Final
1922-23
10
9
1
0
18
34
10
1st
Lost Quebec Semi Final
Season
Games
Won
Lost
Tied
Points
Goals
for
Goals
against
Standing
Playoffs
1918-19
10
5
5
0
10
44
39
3rd
out of playoffs
Season
Games
Won
Lost
Tied
Points
Goals
for
Goals
against
Standing
Playoffs
1923-24
11
4
6
1
9
-
-
3rd
out of playoffs
1924-25
12
3
9
0
6
-
-
4th
out of playoffs
Season
Games
Won
Lost
Tied
Points
Goals
for
Goals
against
Standing
Playoffs
1925-26
9
2
7
0
4
-
-
4th
out of playoffs
Junior Team
Season-by-Season Results
Season
Games
Won
Lost
Tied
Points
Goals
for
Goals
against
Standing
Playoffs
1920-21
6
1
4
1
3
-
-
6th
out of playoffs
1921-22
7
0
4
3
3
-
-
7th
out of playoffs
1922-23
-
-
-
-
-
-
-
-
out of playoffs
1923-24
8
2
6
0
4
-
-
6th
out of playoffs
1924-25
7
1
6
0
2
-
-
9th
out of playoffs
Season
Games
Won
Lost
Tied
Points
Goals
for
Goals
against
Standing
Playoffs
1944-45
14
0
13
1
1
24
95
5th
out of playoffs
1945-46
20
9
10
1
19
85
101
4th
Lost Semi Final
1946-47
27
16
6
5
37
167
92
2nd
Lost Final
1947-48
32
25
3
4
54
179
86
1st North
Won Final. Lost East Final
1948-49
48
28
18
2
58
-
-
1st North
Lost Semi Final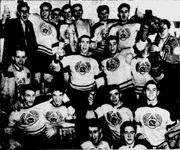 Season
Games
Won
Lost
Tied
Points
Goals
for
Goals
against
Standing
Playoffs
1949-50
35
24
9
2
50
-
-
2nd
Lost Semi Final
1950-51
45
26
19
0
52
229
191
4th
Lost Semi Final
1951-52
50
28
21
1
57
224
198
4th
Lost Semi Final
Season
Games
Won
Lost
Tied
Points
Goals
for
Goals
against
Standing
Playoffs
1956-57
36
24
10
2
50
-
-
1st East
Won Final, Won Quebec
1957-58
38
10
24
4
24
99
138
4th East
Lost Quarter Final