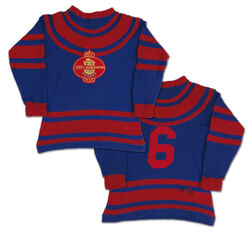 The Montreal Junior Royals were a junior team in Montreal. Like their senior cousins Montreal Royals, were founded in 1932 when the Montreal AAA's hockey team was split off.
They played in the Junior Amateur Hockey Association and its successor, the Quebec Junior Hockey League.
The Junior Royals were a very strong team from the beginning, They won the Quebec junior title in 1932-33 and made it to the 1932-33 Eastern Canada Memorial Cup Playoffs.
In 1941 they became the first Quebec team to appear in the Memorial Cup Final which they lost.
In 1949 they became the first Quebec team to win the Memorial Cup.
After that year the Junior Royals' fortunes waned. They and the Montreal Junior Canadiens were both farm teams of the Montreal Canadiens. The attendance at both junior teams' games was dropping. The Junior Canadiens got most of the attention both from the fans and the Canadiens.
The Junior Royals were moved to Granby in 1951-52 but the team was not successful there. It moved back to Montreal in 1952 for two more seasons.
The team folded after the 1953-54 season - just one year before the league itself folded.
Montreal Junior Royals player photos unknown dates
Season
Games
Won
Lost
Tied
Points
Goals
for
Goals
against
Standing
Playoffs
1949-50
36
9
25
2
20
-
-
5th
Lost Quarter Final
1950-51
42
6
36
0
12
100
276
6th
out of playoffs
1951-52
See Granby Royals
1952-53
47
7
35
5
19
115
225
4th
Lost Semi Final
1953-54
56
11
43
2
24
136
306
4th
Lost Semi Final
Community content is available under
CC-BY-SA
unless otherwise noted.