Montreal Arena
Westmount Arena
Location
St. Catherine Street and Wood Avenue, Montreal
Broke ground
1898
Opened
December 31, 1898
Closed
1918
Demolished
1918
Owner
Canadian Arena Company
Surface
natural ice
Tenants
Montreal Canadiens (NHA,NHL)
1911–1918
Montreal Wanderers (NHA, NHL
1904–1909, 1911–1918
Capacity
4,300, 10,000 people (temporary)
The Montreal Arena, also known as Westmount Arena, was an indoor arena located in Montreal, Quebec, Canada on the corner of St. Catherine Street and Wood Avenue. Opened on December 31, 1898, it held 10,000 people, 4300 seated. It held a refreshment buffet and smoking rooms, with rugs available for rental to sit on. It is likely the third arena designed expressly for ice hockey, after the St. Nicholas Rink in New York City, and the Dey's Skating Rink in Ottawa, which both opened in 1896.
The ice rink ends were not squared-off, but rounded-off. The ends were somewhat semi-circular, possibly the first design of its kind. A puck could be shot along the outside rim, slide along the corners, pass behind the goal and come out the other side. This type of shot is common in hockey today, and is called "rimmed around." The rounded-corners design spread to other arenas. In 1902, after Ottawa's Dey Rink was demolished due to a storm, it was rebuilt with rounded ends to match the Montreal Arena. The first artificial ice-making plant in Montreal was installed in the Arena in 1915. A fire started in the ice-making plant causing the arena to burn down on January 2, 1918, which led the Wanderers to disband and the Canadiens to move back to Jubilee Arena.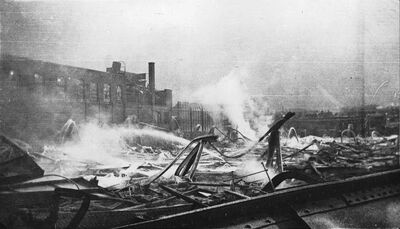 Photos of arena and damage from fire
The owners of the Montreal Arena, the Canadian Arena Company, later built the Arena Gardens in Toronto, and operated the Toronto NHL franchise in 1917-18. Principals of the Arena Company, such as William Northey, would later be involved in the building of the Montreal Forum and the founding of the Montreal Maroons. In the 1930s, the Great Depression led the Maroons players and organization to become part of the Montreal Canadiens organization.
The Arena site is today the site of the Plaza Alexis-Nihon. A new Westmount Arena was built in 1957 to serve the residents of Westmount, Quebec. It holds a collection of replica Stanley Cup banners to honour the early ice hockey teams which won the Stanley Cup. Stanley Cup banners were not hung in the early days of ice hockey.
Usage
At first, it hosted the Montreal senior men's amateur hockey teams of the Amateur Hockey Association of Canada, including the Montreal, Shamrock and Victoria hockey clubs. The Wanderers would start play there in 1904. Later, it served as the home rink for the Montreal Canadiens of the National Hockey Association and National Hockey League from 1911 until 1918.
For Additional Reading