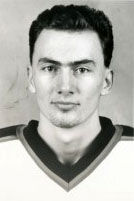 Miroslav Šatan (pron. Shah-tahn) (born October 22nd 1974 in Topoľčany, Czechoslovakia, now Slovakia) is a retired left winger. He is currently the general manager of the Slovak National Team and the president of the Slovak Ice Hockey Federation.
Drafted to the NHL by the Edmonton Oilers in the 1993 NHL Entry Draft (5th round, 111th overall), Šatan had initially began his career with his hometown club, VTJ Topoľčalny, of the Czechoslovak 1. Liga in 1991-92. The following two seasons, he played for HC Dukla Trencin, the first in the Czechoslovak Extraliga, the second in the newly formed Slovak Extraliga (following the independence of Slovakia). His North American career begins in 1994-95 with the Cape Breton Oilers of the American Hockey League and the Detroit Vipers and San Diego Gulls of the IHL. He finally reached the NHL for the NHL Season 1995-96.
After just two seasons with the Oilers, Šatan is dealt to the Buffalo Sabres for Craig Millar and Barry Moore. The skilled Slovak emerged as a first-line forward for the Sabres, being one of the key member of the team. During the NHL Season 2004-05, he went back to play in Slovakia with the HC Slovan Bratislava, tallying 20 points in 18 games. As the labour dispute ceased in North America, Šatan came back and signed a three-years deal with the New York Islanders, with whom he posted in 2005-06 his highest goal output since 2002. He also turned out to be one of the best players of the league in the shootouts, scoring 7 times in 10 appearances.
After the three years with Islanders, he played one year with Pittsburgh Penguins and then one year with Boston Bruins. After that, he moved back in Europe and played his last four seasons with HC Slovan Bratislava.
He dressed up for the Slovak National Team for 1994 World Junior Championship "Pool C", 1994 World Championship "Pool C", 1995 World Championship "Pool B", 1996, 2000, 2002, 2003, 2004, 2005, 2007, 2010, 2011, 2012, 2013 and 2014 World Championships, 1996 and 2004 World Cups of Hockey and 1994, 2002, 2006 and 2010 Olympics.
Community content is available under
CC-BY-SA
unless otherwise noted.