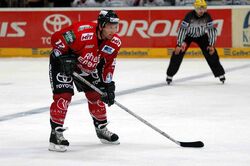 Mirko Lüdemann (also sometimes spelled Mirco Lüdemann) (b. December 15th 1973 in Weißwasser, Sachsen, West Germany) is a professional defenceman who plays in the Deutsch Eishockey Liga for the Kölner Haie.
Lüdemann played some junior hockey in Canada, for three seasons in the Alberta Junior Hockey League with the Fort McMurray Oil Barons, before returning to his native Germany, signing with the Kölner EC. In 1995, Lüdemann would win with Köln the German championship after defeating EV Landshut. He would then rise and establish himself as one of the best defencemen of the DEL, playing a reliable game and showing some excellent offensive abilities. He would become German champion a second time in 2002 after a win over the Adler Mannheim.
Lüdemann played in 132 international games for the German National Team before retiring from international competition. He became in 2006 the player with the most games played for the Kölner Haie with 691, thus passing Peppi Heiß.