Minor hockey is an umbrella term for amateur ice hockey which is played below the junior age level. Players are classified by age, with each age group playing in its own league. The rules, especially as it relates to body contact, vary from class to class. In North America, the rules are governed by the national bodies, Hockey Canada and USA Hockey, while local hockey associations administer players and leagues for their region. Many provinces and states organize regional and provincial championship tournaments, and the highest age groups in Canada also participate in national championships. Yes and AAA teams can play in the internationals.
Canada
[
]
In Canada, the age categories are designated by each provincial hockey governing body based on Hockey Canada's guidelines,[1] and each category may have multiple tiers based on skill.
Age Categories
[
]
Mite (ages 3-4)
Tyke (ages 5-6)
Novice (ages 7-8)
Atom (ages 9-10)
Peewee (ages 11-12)
Bantam (ages 13-14)
Midget (ages 15-17)
Juvenile (ages 18-20)
Smaller communities will often combine the Mite and Tyke levels into a single Initiation (or Pre-Novice) category.
Skill Categories
[
]
There are two broad grouping of skill levels: competitive and non-competitive. A competitive team will hold tryouts and players will be selected for the roster depending upon skill level and fit.
Non-Competitive
[
]
HL ("House League") teams are intra-city and players may be of any skill level.
Select teams will consist of better House League players who in addition to HL play, will play in additional games and practices which are organized on an ad-hoc basis.
Select Competitive teams organize enough ad-hoc games that the players will usually discontinue HL play.
Competitive
[
]
Higher-skilled players will typically play on a 'representative' (a "rep" or "travel") team that will travel to play rep teams from other areas. Rep teams are classified by skill. Not all associtions will have teams at all skill levels, depending on size and the popularity of hockey, however even small communities may field competitive teams at multiple levels. (For example: Orillia, Ontario with approximately 800 youth hockey players, has 1 competitive teams at each level 'A', and their their top players can compete for a regiona "AAA" team.  In comparison, Markham Ontario has 2000 youth hockey players and fields 6 teams, 2 at AAA, AA, & A.)
The classifications are made by the hockey Canada branch or the local Hockey Canada branch or it's Member partners. 
AE ("Additional Entry") is a category available to associations that have a larger inventory of competitive level players than available roster spots.  Should a club be able to field extra teams, they are entered as an AE team.  In some leagues AE is a separate category below A. 
A
AA
AAA is the highest caliber of minor hockey
British Columbia
[
]
In British Columbia, BC Hockey has a different system for competitive teams. Rep teams are exclusively inter-city, and are labeled as A1, A2, A3, and A4. A larger association will have their best team in each division labeled as an A1 team, where a smaller association may have their strongest team may be labeled as an A2, A3, or A4 team. Other teams from the same association would be labeled one level below.
France
[
]
In France, hockey teams use the following levels[2]:
Moustiques (age 9 and younger)
Poussins (age 11 and younger)
Benjamins (age 13 and younger)
Minimes (age 15 and younger)
Cadets (age 18 and younger)
Germany
[
]
In Germay, German Ice Hockey Federation designates the following levels:
Kleinstschüler (Bambini) (ages 8 and younger)
Kleinschüler (ages 10 and younger)
Knaben (ages 12 and younger)
Schüler (ages 14 and younger)
Jugend (ages 16 and younger)
Junioren (ages 18 and younger)
All levels are administrated by the respective sub-federation in each province except for the federal leagues that are administrated directly by the German Ice Hockey Federation: DNL, Schüler-, Jugend- and Junioren Bundesliga.
Sweden
[
]
In Sweden, Swedish Ice Hockey Federation designates the following levels: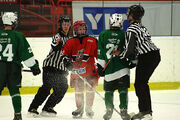 U11 (ages 11 and younger)
U12 (ages 12 and younger)
U13 (ages 13 and younger)
U14 (ages 14 and younger)
U15 (ages 15 and younger)
U16 (ages 16 and younger)
J18 (Juniors 18 and younger)
J20 (Juniors 20 and younger)
Some levels (especially J18 and J20) are directly administrated by the Swedish Ice Hockey Federation, while lower divisions of the Juniors and below are administrated by the respective sub-federation in each province (landskap).
Switzerland
[
]
In 2007, the Schweizerischer Eishockeyverband (the Swiss Ice Hockey Association) defined uniform age categories[3], using terms from the national languages of Switzerland.
Bambini (9 and under), Italian for "baby"
Piccolo (11 and under), Italian for "little"
Moskito (13 and under), German for "mosquito"
Mini (15 and under), Latin for "small"
Novizen, Novices, or Novizi (18 and under), meaning "Novices"
Junioren, Juniors or Juniores (20 and under), meaning "Juniors"
United States
[
]
In the United States, USA Hockey designates the following levels[4]:
Mite (ages 8 and younger)
Squirt (ages 9-10)
Peewee (ages 11-12)
Bantam (ages 13-14)
Midget 16 and Under (ages 15-16)
Midget 18 and Under (ages 15-18)
Some leagues also have a younger level referred to as "Mosquitoes."
Officials
[
]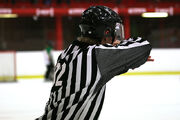 Officials for youth hockey are often youth players themselves, calling games in lower levels than the one they participate in themselves. Just as players start out playing youth hockey, officials start their officiating career officiating youth hockey, making it up through the ranks as their officiating skill increases. USA Hockey defines certain levels of their officials and so does Hockey Canada and the International Ice Hockey Federation.
Currently, many youth officials quit after a few games, mainly due to verbal abuse from parents, coaches and players. While a certain number quit due to other reasons, the most common reason is that. In the US and Canada, news stories pop up from now and then that describes physical abuse on youth officials, in addition to verbal abuse. This is very rarely reported in other countries, either because it's less prone to occur there, or that it won't get the same news attention. These problems were addressed in Hockey Canada's "Relax, it's just a game"-campaign, started in 2002.
A youth official can usually move up the ladder to juniors after about 2 years of officiating, and after a few years more up to senior hockey. This is of course, just as with players, different for each individual as their skill-curves are differently shaped.
Many current and former officials feel that their officiating career has aided them in their professional life as well, being more comfortable with handling critical decisions and upset individuals. The combinations of CEO or lower-level boss along with being an official and police officer along with officiating is quite common in many countries.
References
[
]
External links
[
]