The Minnesota Whitecaps are a professional women's ice hockey team that plays in the Minneapolis-St. Paul, Minnesota area. In 2006-07 they were members of the National Women's Hockey League. They had been part of the Western Women's Hockey League from the fall of 2004 until the summer of 2006. In July 2006 it was announced that team along with other WWHL teams would be joining the National Women's Hockey League for the 2006-07 season. However, this was short lived as the NWHL and WWHL could not reach an agreement upon a playoff schedule. As a result, the merger was not consummated. With the collapse of the NWHL in the summer of 2007, the Western Women's Hockey League was once again a completely independent league. In March 2010, the Whitecaps became the first American team to win the Clarkson Cup.
On May 15, 2018 the team was added as a member of the National Women's Hockey League to begin play in that league for the 2018-19 season.  The league announced they will operate the team
History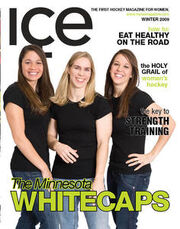 2008-09
January 16: The Whitecaps participated in Hockey Day Minnesota. The team played the USA Selects Team.
March 8: The Whitecaps defeated the Calgary Oval X-Treme on March 8 in the WWHL Championship game shutting out Calgary by a score of 2-0. The Minnesota Whitecaps also won the semi-final game on March 7 against the Edmonton Chimos by a score of 4-0.
March 21: The Whitecaps participated in the inaugural Clarkson Cup. The final game pitted the Montreal Stars, the top team from the Canadian Women's Hockey League, against the Minnesota Whitecaps, the top team from the WWHL.[1] Montreal won the Cup by a score of 3-1. Sanya Sandahl was selected as Minnesota's player of the game.
2009-10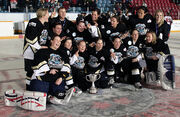 November 16: Chisago Lakes was host to the first scrimmage of the season between the Whitecaps and the USA National team.
December 21: Jenny Potter, Angela Ruggiero, Julie Chu, Natalie Darwitz, Caitlin Cahow, Molly Engstrom, Lisa Chesson, Jinelle Zaugg-Siergiej and Karen Thatcher all former Minnesota Whitecaps will be playing in the 2010 Vancouver Olympic Games on February 12–28.[2]
On February 8, 2010, the Whitecaps clinched the WWHL Championship. The first game of the series on Friday February 5, was held at Minnetonka's Pagel Ice Arena hosted by Minnetonka Youth Hockey Association. The Whitecaps beat Strathmore by a score of 6-3. Game two of the series was hosted by the NOVAS Girls High School Hockey team on Saturday, February 6, at Victory Memorial Ice Arena. The Whitecaps will look forward to competing in the Clarkson Cup Championship in Richmond Hill, Ontario, Canada from March 26-28.
March 28: The Whitecaps defeat the Brampton Thunder by a score of 4-0 to win the 2010 Clarkson Cup in Richmond Hill, Ontario.[3]

Olympians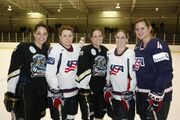 Awards and honors
2008 Breaking Barriers Award[4]: Presented at National Girls and Women in Sports Day in St. Paul
2009 Clarkson Cup Top role model: Julie Chu
2009 Clarkson Cup Top defense: Caitlin Cahow
2010 Clarkson Cup Most Valuable Player: Julie Chu
2010 Clarkson Cup Final, Player of the Game, Brooke White-Lancette[5]
Natalie Darwitz, Western Women's Hockey League Most Valuable Player (2006–07)[6]
Year-by-Year
| Season | GP | W | L | OL | GF | GA | Pts | Finish | Isobel Cup Playoffs |
| --- | --- | --- | --- | --- | --- | --- | --- | --- | --- |
| 2018-19 | 16 | 12 | 4 | 0 | 53 | 34 | 24 | 1st | Won Championship |
| 2019-20 | 24 | 17 | 5 | 2 | 106 | 52 | 36 | 2nd | Playoffs cancelled prior to championship game |
| 2020-21 | 4 | 3 | 1 | 0 | 12 | 10 | 6 | T-1st | Lost Final |
| 2021-22 | 20 | 6 | 13 | 1 | 52 | 64 | 19 | 5th | Lost Semifinal |
References