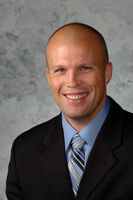 Michael Yeo (born July 31, 1973 in North Bay, Ontario) is the current head coach of the Minnesota Wild of the National Hockey League. He was formerly an assistant coach for the Pittsburgh Penguins and head coach of the Houston Aeros.
Career
Yeo spent 5 seasons with the Houston Aeros while they were members of the International Hockey League (IHL). In 1998-1999, he captained the team to the Turner Cup Championship.
Yeo was brought in as a minor league veteran by the Wilkes-Barre/Scranton Penguins, the top affiliate of the Pittsburgh Penguins, at the onset of their inaugural season. This was to be the beginning of what would eventually become eleven years of service with the Pittsburgh Penguins organization. After just 19 games with Wilkes-Barre/Scranton, Yeo suffered a career ending knee injury. He accepted an offer to become Glenn Patrick's assistant with the American Hockey League Penguins, and remained in that position when Michel Therrien replaced Patrick in 2003. Yeo followed Therrien in 2005 to the Pittsburgh Penguins after the firing of Eddie Olczyk.[1] Together, the two helped lay the groundwork for the 07-08 season's success, in which the Penguins produced their second-highest points total in franchise history, with Yeo's primary responsibilities focused towards working with the Penguins' special teams. Yeo, then working under Therrien's successor as head coach, Dan Bylsma, helped the Penguins win the Stanley Cup in 2009.
On June 16, 2010, Yeo was hired as the head coach of the Houston Aeros, replacing Kevin Constantine. Yeo lead the Aeros to the Western Conference championship in his only year as their head coach. The season before Yeo's hiring, the Aeros finished in last place in the West Division.
Yeo was announced as the head coach of the Minnesota Wild on June 17, 2011. The Wild under Yeo won their first game at home against the Columbus Blue Jackets 4-2.
Personal life
Yeo has two children: a daughter, Braeden, and a son, Kyler, and a wife named Tanya. He attended Widdifield Secondary School in North Bay, Ontario.
Career statistics
External links
Mike Yeo's career stats at The Internet Hockey Database
References