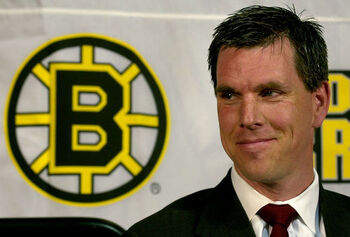 Michael Sullivan (born February 27, 1968 in Marshfield, Massachusetts) is a former American head coach and centre in the National Hockey League. He is currently assistant coach with the New York Rangers.
Playing career
[
]
Sullivan played schoolboy hockey at Boston College High School and college hockey at Boston University Where he scored a game winning goal in the Beanpot Tournament. He was drafted 67th overall by the New York Rangers in the 1987 NHL Entry Draft. He elected to remain at BU to finish school, and in 1990, he began an 11 year NHL career in which he accumulated 54 goals, 82 assists, 136 points and 203 penalty minutes in 709 games.
Coaching career
[
]
Sullivan began coaching professional hockey during the 2002–2003 season, when he became the head coach of the Providence Bruins of the AHL. In his only season, his team had a 41–17–9–4 record.
Sullivan was hired as the 26th head coach of the Boston Bruins in 2003 by then-general manager Mike O'Connell. His first season with the Bruins was highly successful, as he led them to a 41-19-15-7 record, 104 points and a first place finish in the Northeast Division. They were eliminated however, in the first round of the playoffs to the Montreal Canadiens. After the lockout, Sullivan and the Bruins struggled to win in the new NHL, as they ended the 2005-2006 seaon with a dismal 29-37-16 record, missing the playoffs and finishing last in the Northeast Division. He was subsequently fired by incoming general manager Peter Chiarelli on 27 June 2006 and was replaced by Dave Lewis.
On May 31, 2007, he was named assistant coach of the Tampa Bay Lightning. He has also served as an assistant coach of the U.S. Olympic hockey team at the 2006 Winter Olympics in Torino, Italy.
External links
[
]