Michael Commodore (born November 7, 1979) is a Canadian professional ice hockey defenceman currently playing for the Detroit Red Wings of the National Hockey League (NHL).
Commodore played his collegiate years at the University of North Dakota Fighting Sioux, playing three years and winning the NCAA Championship in 1999. He was drafted 42nd overall by the New Jersey Devils in the 1999 NHL Entry Draft. He was traded to the Anaheim Ducks and then to the Calgary Flames, playing in the Stanley Cup Finals in 2004. Calgary's depth on the blue line left no place for Commodore in the regular lineup, and he was traded to Carolina prior to the start of the 2005–06 NHL season.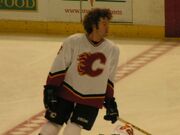 After the 2006 Stanley Cup playoffs with Carolina, winning the Stanley Cup, Commodore had his long curly red locks shaved for organizations which helped the Jimmy V Foundation cancer research. The first time he had his hair shaved was at his mother's former school, Fort Saskatchewan Senior High School. The second time, Commodore held ten eBay auctions for the highest bidders which would allow them to have a chance to shave his head and keep his hair.
Along with Rhett Warrener, he played a role in Paul Brandt's music video, "Convoy", as a truck driver.
He was a member of the 2007 Canadian IIHF World Championship team that won gold in a 4–2 win against Finland in Moscow.
On February 11, 2008, Commodore was dealt to the Ottawa Senators along with Cory Stillman from Carolina for Joe Corvo and Patrick Eaves.[1]
Commodore was signed as an unrestricted free agent by the Columbus Blue Jackets on July 1, 2008 to a five year contract worth $18.75 million. He scored five goals as well as adding 19 assists during his first season in Columbus that saw the Blue Jackets appear in their first ever Stanley Cup Playoff series against the Detroit Red Wings, who won in a sweep. Commodore recorded 18 penalty minutes during the series.
Commodore cleared waivers on January 17, 2011, and was assigned to the Springfield Falcons of the AHL.
The Detroit Red Wings signed Commodore to a one-year contract worth $1 million on July 1, 2011.[2] After signing, Commodore was offered to pick his own jersey number, which incited several Internet petitions to suggest the number 64, in reference to the Commodore 64. The idea was supported by both the team and Commodore himself[3], but ultimately he decided against it.[4]
Year
Team
Event
GP
G
A
Pts
PIM
2007
Canada
WC
9
0
2
2
14
Senior int'l totals
9
0
2
2
14
Community content is available under
CC-BY-SA
unless otherwise noted.