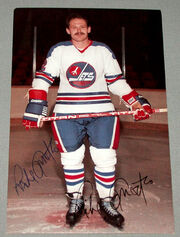 Mike Amodeo (born June 22, 1952 in Toronto, Ontario) is a retired professional ice hockey defenceman who played 300 games in the World Hockey Association and 19 games in the National Hockey League. He played for the Ottawa Nationals, Toronto Toros, and Winnipeg Jets.
He played junior hockey with the Toronto Marlboros, Niagara Falls Flyers, and the Oshawa Generals from 1968 to 1972. Chosen 102nd overall by the California Golden Seals in the 1972 NHL Amateur Draft, he instead signed with the Ottawa Nationals of the World Hockey Association (WHA).
With the Nationals and (after they moved) the Toronto Toros, Amodeo was teamed with Carl Brewer and became one of the better defencemen in the league. A dispute with Toros' management led to his leaving the team in 1976.
He went to Sweden and joined Örebro IK where he played for two seasons. In 1978 he signed as a free agent with the WHA's Winnipeg Jets and played there in 1978-79 (winning the Avco World Trophy) and in 1979-80 (when the Jets joined the NHL). After a disappointing 1979-80 season Amodeo rejoined Örebro in 1980-81 and then went to Italy to play two seasons for HC Merano. In 1982 he played for Italy at the 1982 World Championship. Since his parents were Italian he was eligible to become Italian as well.
He retired in 1983.
In the NHL, Amodeo played in 19 games without a point. In the WHA he scored 11 goals and 65 assists in 300 games.
Gallery
External Links