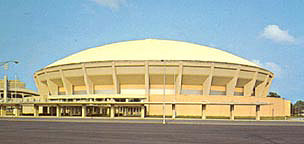 The Mid-South Coliseum, also known as "The Entertainment Capital of the Mid-South", was a multipurpose arena that seated 10,085 people in Memphis, Tennessee. It was built in 1963.
Hockey
The Coliseum was built as a hockey arena, and served as the home of the 'old' Central Hockey League team called the Memphis Wings (later the Memphis South Stars) from 1964 through 1969. To accommodate Hockey, the floor had piping installed which allowed the circulation of brine. The floor was often left frozen between games, allowing Memphis Residents to skate. By the time the Memphis RiverKings, of a re-formed Central Hockey League began playing in 1992, the piping had become too rotten for use, and an above-floor system was used.
Closure
The venue closed at the end of 2006, primarily because the cost to bring the venue into compliance with the Americans with Disabilities Act was prohibitive.