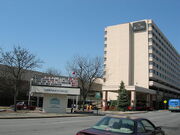 The Mid-Hudson Civic Center is a venue in Poughkeepsie, NY, USA consisting of Mair Hall (a concert and convention hall) and the McCann Ice Arena (an ice skating venue). It was built in the 1970s as part of the general attempt at rehabilitation of the central district of the City of Poughkeepsie. It is located at 14 Civic Center Plaza, on a segment of what was formerly known as Market Street near the former Main Mall. The Poughkeepsie Grand Hotel, at 40 Civic Center Plaza, is adjacent on the same block and was developed concurrently with the civic center.
Mid Hudson Civic Center, a private, not-for-profit community organization dedicated to providing cultural, recreational and educational opportunities to the Hudson Valley is a dual venue comprising Mair Hall and McCann Ice Arena. Mair Hall is a 15,475 sq ft space with the capacity to host 3,050 seated spectators and large expos and trade shows. Bob Dylan is due to perform here on his 2010 Tour on November 16th
McCann Ice Arena serves youth organizations, leagues and individuals for both recreational and competitive figure skating and ice hockey and offers open ice slots, group and private lessons, public skating sessions and private parties. McCann Ice Arena has been the home of the Hudson Valley Bears and the Poughkeepsie Panthers, two professional hockey teams.
Community content is available under
CC-BY-SA
unless otherwise noted.