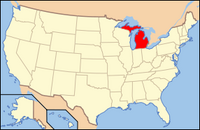 Michigan (roughly MISH-uh-gun) is a Midwestern state of the United States of America, located in the east north central states, as defined by the Census Bureau. It was named after Lake Michigan, whose name is a French adaptation of the Ojibwe term mishigami, meaning "large water" or "large lake".
NHL
Teams
The Detroit Red Wings have played in Michigan since their founding in 1926 as the Detroit Cougars.
See Also, List of ice hockey teams in Michigan.
Players
Notable player from Michigan include