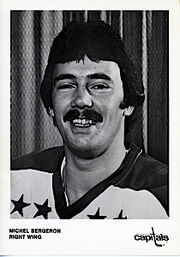 Michel Bergeron (born November 11, 1954 in Chicoutimi, Quebec, Canada) is a retired Canadian ice hockey right winger.
Drafted in 1974 by both the Detroit Red Wings of the National Hockey League (63rd overall) and the Quebec Nordiques of the World Hockey Association (83rd overall), Bergeron also played for the New York Islanders and Washington Capitals.
He played junior hockey for the Sorel Éperviers from 1971 to 1974, scoring 62 goals in his last season. Bergeron split his first pro season (1974-75) between the Wings and the Virginia Wings. In 1975-76 he played a full season with Detroit, scoring 32 goals. In 1976-77 he still managed 21 goals but Bergeron was on his way down.
The New York Islanders traded André St. Laurent to Detroit for Bergeron in 1977-78. He scored 9 goals in 25 games but could not crack their deep lineup. The next season the Washington Capitals accquired him but he only scored 7 goals in 30 games. Those were to be his last NHL games.
He played another three seasons in the minor pros and retired in 1982.
Community content is available under
CC-BY-SA
unless otherwise noted.