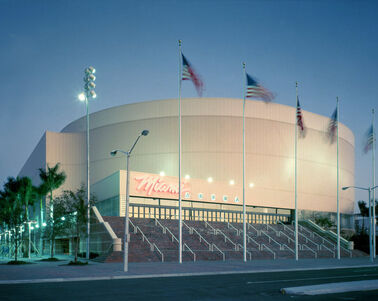 Miami Arena
Location
701 Arena Boulevard, Miami, FL 33136
Opened
July 1988
Closed
2008
Demolished
October 21, 2008
Owner
City of Miami (1988–2004)
Glenn Straub (2004-2008)
Construction cost
$52.5 million
Architect
HOK Sport
Tenants
Miami Heat (NBA) (1988–1999)
Florida Panthers (NHL) (1993–1998)
University of Miami (NCAA) (1988–2003)
Miami Matadors (ECHL) (1998–1999)
Miami Hooters (Arena Football League) (1993–1995)
Capacity
Basketball: 16,640
Ice hockey: 14,696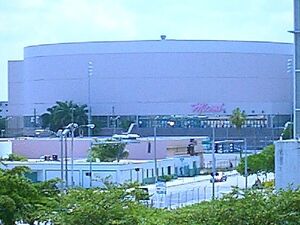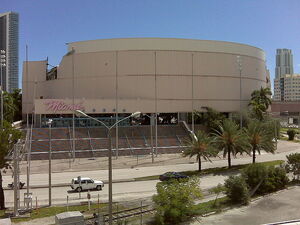 The Miami Arena was an arena in Miami, Florida that was in existence from 1988 until 2008.
History
Completed in 1988 at a cost of $52.5 million, its opening took business away from the Hollywood Sportatorium and eventually led to its demise. The arena was the home of the Miami Heat from 1988-1999, the Florida Panthers from 1993-1998, the University of Miami basketball teams from 1988-2003, the Miami Hooters of the Arena Football League from 1993-1995, the Miami Matadors of the ECHL in 1998, the Miami Manatees of the WHA2 in 2003, and the Miami Morays indoor football team since 2005.
On January 2, 2000, the Heat moved to the American Airlines Arena located three blocks east of Miami Arena on the shore of Biscayne Bay. The Panthers also left Miami Arena to play at what is now the BankAtlantic Center located in Sunrise, Florida right near Florida's largest outlet mall, Sawgrass Mills.
On September 21, 2008, the roof of the Miami Arena was imploded. While the exterior walls remained standing after the implosion, demolition continued until the falling of the west wall on October 21, 2008.
Seating Capacity
Basketball: 16,640
Ice hockey and arena football: 14,696
End-stage concerts: 5,723 and 16,508
Half-house concerts: between 6,351 and 9,120
Amphitheatre concerts: 6,380
Luxury suites: 26
External links